Retired CEO Paul Toms will be feted with tree planting at corporate headquarters
MARTINSVIILLE, Va. – During two decades at the helm of Hooker Furnishings, recently retired Chief Executive Officer, Paul Toms planted the seeds of growth and expansion that led the company to its top spot on the list of global manufacturers. On Arbor Day, April 30th, the company's employees celebrated Toms' legacy by planting a tree in his honor at its corporate headquarters here.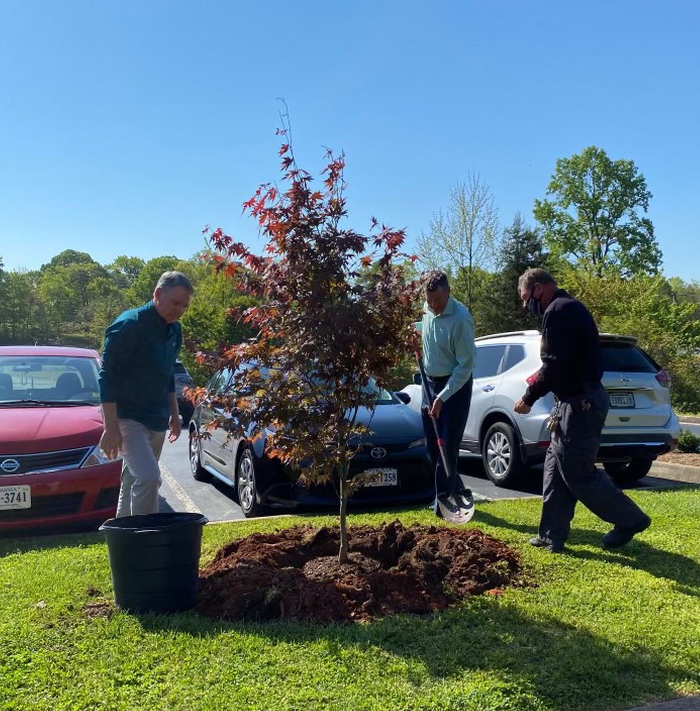 A living tribute, employees chose to plant a Bloodgood Japanese Maple to symbolize balance and calm. A plaque will adjoin the tree and is engraved with the dedication date.
"Paul Toms was a leader who built an incredible sense of history and heritage within our company and we are proud to honor him in such a way that symbolizes continued growth," said Jeremy Hoff, chief executive officer of Hooker Furnishings. "Paul's legacy will forever be embedded in our culture and this dedication represents his unwavering commitment and leadership that has helped shape our company into the industry leader we are today.
"As we placed this tree into the earth, it represents the growth, progress and potential that can be achieved when we continue to function as 'One Company…One Team,'" he added.
"I am honored to have continued in the footsteps of the great leaders of our company, Clyde Hooker and Clyde Hooker Jr.," said Toms. "Throughout my 38 years with the company, I was fortunate enough to lead a group of people that truly embody what teamwork means, and as a team, we were successful…together."
Earlier this year, the company announced it is strengthening its commitment to corporate social responsibility. In recent months, the company has created an Environmental Social Governance Council, a cross-brand, cross-functional group that will drive the company's initiatives.
As part of this series of initiatives, Hooker Furnishings has partnered with the Arbor Day Foundation to support reforestation efforts in Florida. Through this partnership, the company has furthered its commitment to creating a healthier, cleaner world today and into the future. Through its corporate support, Hooker Furnishings is helping to build critical habitats for endangered wildlife, healthier watersheds and waterways, and more sustainable ecosystems.
The Arbor Day Foundation, a 501 c(3) nonprofit organization founded in 1972, plants approximately five million trees per year, and is the nation's largest organization dedicated to tree planting. With partners in more than 45 countries around the world, the foundation is strongly committed to making change by planting.
Based in Martinsville, Va., Hooker Furnishings Corporation is ranked among the nation's largest publicly traded furniture sources and encompasses 12 discrete operating businesses. These brands include: Hooker Furniture, Hooker Upholstery, Bradington-Young, Sam Moore Furniture, Shenandoah Furniture, H Contract, Accentrics Home, Pulaski Furniture, Samuel Lawrence Furniture, Prime Resource International, Samuel Lawrence Hospitality and HMIdea. Hooker Furnishings Corporation's corporate offices and upholstery manufacturing facilities located in Virginia and North Carolina, with showrooms in High Point, N.C. and Ho Chi Minh City, Vietnam. Hooker Furnishings operates distribution centers in the United States, China, and Vietnam. The company's stock is listed on the Nasdaq Global Select Market under the symbol HOFT. For more information, please visit hookerfurniture.com.