HIGH POINT, N.C., April 22, 2021 — The High Point Market Authority is partnering with the Home Furnishings Association (HFA) and Purple Innovation for its next webinar in the spring 2021 IdeaStreams series. The session will explore Purple's approach to reinventing brand loyalty and their resulting successes in becoming a leader in comfort innovation solutions.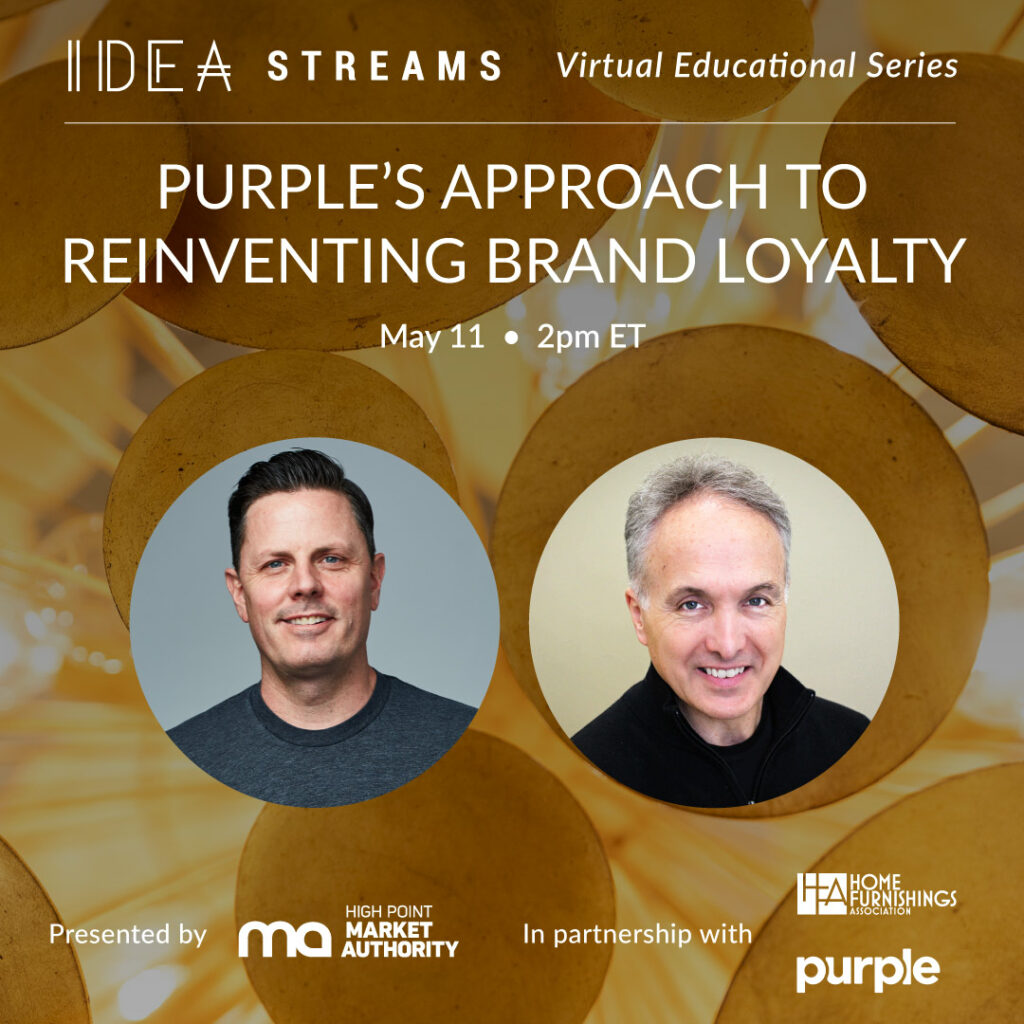 Scheduled for Tuesday, May 11, at 2 p.m. ET, HFA's CEO, Mark Schumacher, will interview Purple's vice president of brand and executive creative director, Burke Morley, in an engaging and informative overview of the Purple brand's story and success, including practical tips on how to elevate one's business goals.
Purple is the result of over 25 years of innovation and investment in proprietary and patented comfort technologies. Today, Purple ranks #1 in customer satisfaction according to J.D. Power and has successfully expanded its product offerings across seven comfort solution categories including pillows, seat cushions, and bedding.
Their successful marketing strategy took them from a Kickstarter campaign to a public company with close to $300 million in sales in under 3 years. Focusing mainly on digital marketing, their viral video campaigns have been viewed over 4.4 billion times. Evolving from a strictly direct to consumer model, the brand has expanded its market presence to include partnerships with traditional brick and mortar stores.
"Everyone loves a good success story, and there's a lot to unpack and learn from Purple's introduction and integration into the mattress industry," commented Schumacher. "I look forward to diving into Purple's story with Burke and uncovering the lessons there to be learned and applied."
The 60-minute session will offer 1 IDCEC-accredited CEU. Details and a registration link are available at www.highpointmarket.org/events/ideastreams.
The Market Authority's website also offers on-demand viewing of previously recorded IdeaStreams sessions. These webinars are in place of in-person educational programming for the Market Authority during Spring Market, June 5-9.
About the High Point Market Authority
The High Point Market Authority, www.highpointmarket.org and www.highpointmarketauthority.org, is the official sponsor and organizer of the High Point Market in High Point, N.C. Featuring an extensive selection of exhibitors spanning every category, style, and price point, and attracting tens of thousands of visitors from more than 100 countries twice each year, High Point Market is the driving force of the home furnishings industry. Find the High Point Market anywhere online, and follow on social media using the hashtag #HPMKT.

About Home Furnishings Association
With roots dating to 1920, the Home Furnishings Association is the nation's only trade association devoted exclusively to home furnishings retailers' needs and interests. HFA has one priority: the success of more than 1,500 retail members and their 7,000 storefronts. HFA creates opportunities for retailers to connect, advocates for retailers' business interests, has 45+ resources, and provides education to help retailers run profitable businesses that contribute to their communities and provide good jobs. For more information on the Home Furnishings Association (HFA), visit www.myhfa.org.