PATERSON, N.J. — Joe Bograd, longtime co-owner and operator of the former Bograd's Fine Furniture, first in Paterson and later in Riverdale, N.J., died unexpectedly Feb. 17. He was 85.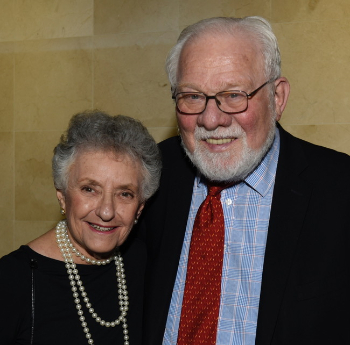 Born in Paterson and a 1956 graduate of Cornell University, Bograd joined his father and uncle in the high-end family-owned furniture store business right after college. Over the course of more than 60 years, he would become a mentor and friend to many in the industry.
His son Mark Bograd, and wife Marcia, who died in early 2019, would join him in the business, on buying trips and on trips to various industry conventions and events. The upscale Bograd's underwent a refresh in 2013, re-emerging as @Bograd's and closed in 2019 after 89 years in business.
"I think he was often regarded as one of the true icons and personalities in the furniture business," Mark Bograd, now general manager of New Jersey's White House Designs for Life, told Home News Now. No one cared about the industry more, and he always was willing to offer an honest, sometimes critical opinion, but it was always done with respect and kindness, he said.
Reps and others in the industry are remembering him this week for being generous with his time, always showing his respect for others and their views and helping them learn the business.
In his eulogy posted online, Mark Bograd said Bograd's and the industry were a huge part of his father's life, "Truly a second family."
"Much of who I am as a person originates in him and the business. I find myself invoking my father all the time. It is strange to say that I found my moral compass in the furniture business. But I did. He taught me, as Joe learned from Sam and Pauline, to treat everyone with respect, be they supplier, customer or employee; to always choose to do the right thing; to seek fairness over advantage; to be earnest and do what you say. Life wasn't about getting ahead of others, but about getting along with them. He ran Bograd's that way and built one of the most respected businesses in the furniture industry."
On the same MyKeeper memorial page, Ray Allegrezza, executive director of the International Home Furnishings Representatives Assn., writes about the honor of meeting Bograd when Allegrezza was Editor-in-Chief of Furniture Today.
"Aside from being a wonderful merchant, Joe has a love for the business and an ever greater love for the people in our sector," he said. "He and his lovely wife were my friends and mentors. Joe often wrote me notes, sometimes praising a particular column, sometimes wondering if I had lost my mind. Either way, he always kept me on the straight and narrow."
And industry representative Tommy Leflein called Bograd, "One of the good guys," and notes how he "gave me my first order when I just started out with Thomasville Furniture in 1975."
"He was the smartest man I ever met in the furniture business. All the sales reps from every company just loved him. He had a way about him that made you feel comfortable when in his presence."
Bograd is survived by two sisters, Naomi Robbins and Harriet Bograd-Klein, two sons, Mark and Louis Louis Bograd; daughter Stephanie Bograd; and four grandchildren.
A private graveside ceremony was held on Feb. 19 a Cedar Park Cemetery in Paramus, N.J.  Furniture zoom shiva, celebrating his life is planned for Thursday, from 7:30 to 9:30 p.m. You can register in advance here.
The family suggests memorials may be made to Temple Beth Tikvah in Wayne, N.J.; Cornell University; Southern Smoke Foundation, which supports restaurant workers in times of distress; or World Central Kitchen, supporting people with food insecurity.