Refund party slated for Feb. 28
HOUSTON — More than 1,000 Gallery Furniture customers will each be getting $3,000 or more in refunds on their mattress purchases following Tampa Bay's blowout of Kansas City in the Super Bowl Sunday.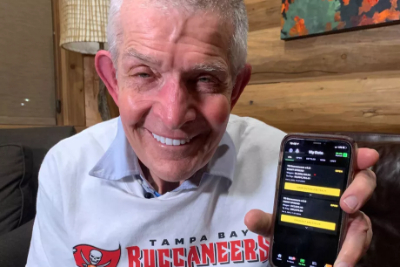 Jim McIngvale, owner of the Top 100 company here, wouldn't tell Home News Now exactly how much was at stake, but confirmed that more than 1,000 customers took him up on Gallery's latest sports-themed event, "Big Game Promo." If they spent $3,000 or more on a Tempur-Pedic, Sealy or Stearns & Foster mattress and/or an adjustable base, they'd get a refund on the purchase if Tampa Bay won.
And the Tampa Bay Buccaneers won by a lot: 31-9. That means Gallery will be doling out more than $3 million at a refund party slated for Feb. 28.
Not to worry, though. McIngvale was all over the news last week after traveling to Colorado to place a whopping $3.46 million wager on DraftKings' mobile app for the Bucs to cover as 3.5-point underdogs. According to a DraftKings release issued before the game, if he won, the total payout would $6.18 million (McIngvale's wager plus $2.72 million).
That's not quite enough to cover the refunds, but McIngvale didn't appear the least bit concerned about it. Asked if he had made additional wagers on top of his $3.46 million bet (the one getting headlines as the largest amount bet on the game) McIngvale said, yes, that he'd traveled to a couple of other places around the country to wager, too.
"I don't want to say how much I bet, but let's just say I was well represented," he said.
Still, you'd be missing the point if you think that's the only thing that has McIngvale happy about the outcome.
"Gallery won and the customers won, but the customer winning is all that matters," he said.
"There were a lot of customers last night cheering hard for Tampa Bay, and now they're all excited because they're going to get that money back and a free great mattress."
The Houston retailer is trying to get a few players in for the refund party to "make it a big to-do of it," he said.
As for business, he reported, "Everything's good.
"We're selling furniture and trying to survive all these crazy product outages. but that's all right because we're very flexible."