MARTINSVILLE, Va. – In response to rising concerns brought on by the COVID-19 pandemic, H Contract, a supplier of upholstered seating and case goods for the senior living, commercial and higher education markets, has issued a guide that provides its contract partners with information on best practices for properly cleaning and disinfecting its wood furniture products. The brochure, which can be found on the company's website, is based on an independent lab study conducted for H Contract that evaluated several cleaning products and their effect when used on wood surfaces.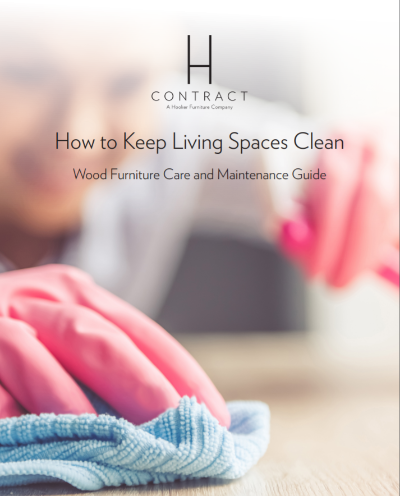 According to the CDC, the most common mode of transmission for the coronavirus is airborne through close proximity to people. However, lab studies have shown that the virus can also be contracted by coming into contact with infected surfaces, especially frequently touched items in public spaces. The H Contract guide provides recommended cleaning products and easy-to-follow-instructions on how to keep wood furniture clean, disinfected and looking its best based on the lab's rigorous testing.
"Since the start of the COVID-19 pandemic, keeping contract spaces clean has been top of mind for our contract partners. After receiving numerous questions and concerns from the contract industry, we engaged with an independent lab to conduct tests and developed our care and maintenance guide to help answer these questions, along with easy instructions on how to clean and care for wood furniture used in contract environments," said Mark Craven, vice president of sales and merchandising for H Contract. "We were also able to narrow down a few common cleaners that help eliminate germs without degrading wood surfaces."
"This is especially important in senior living communities, where preventing the spread of infection is critical. Our goal in developing this guide is to help our partners protect their residents, while also protecting their furniture investment," Craven added.
The guide also details how to determine commonly touched surfaces and the difference between cleaning and disinfecting. To properly clean the wood furniture, it's important to first clean the items, then disinfect them to effectively kill more germs on the pieces. The guide also provides extensive instructions on how to properly use these cleaners in tandem with other cleaning accessories for optimal results.
Founded in 2013, H Contract, a division of Martinsville, Va.-based Hooker Furniture Corp. (NASDAQ: HOFT), provides the largest assortment of upholstered seating and case good furniture to the senior living market. With deep roots in the furniture industry, H Contract is the expert-based senior living furniture brand that provides unassuming luxury and creates a gratifying environment for the cultured baby boomer. With a sophisticated brand image and on-trend designs, H Contract designs product with residential style, while serving the needs of the contract industry. For more information, please visit hcontractfurniture.com.