(ACWORTH, GA—January 21, 2020) Global rug and textiles furnishings company Jaipur Living celebrates artistic inspiration in February with a product launch that underlines the beauty of subtle detail and exquisite craftsmanship. Look for luxurious artisan-made handknots, earthy woven naturals, indoor-worthy performance collections, and super textural accessories.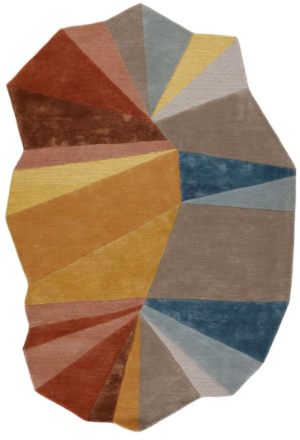 "Our February launch features texture and lots of it," says Jaipur Living Director of Product Development Steve Sorrow. "You can see it in braided weave techniques, single-line Soumak or directional knotting, and how natural fibers of different thicknesses make our flatweaves anything but flat."
Almost 60 rugs make their debut across 11 new and seven existing collections. More than 30 pouf and pillow options take a bow in eight new and three existing collections that will be shoppable on Jaipur Living's website in February.
HIGHLIGHTS
Reconnext by Jenny Jones welcomes two new rugs inspired by the Australia-based designer's travels

The handwoven Juliette collection achieves layers and textures through hand-printed patterns

Head-turning hues and playful shapes are found in the tufted Iconic collection

The popular Rebecca line of eco-friendly performance rugs features four new colorways
TRENDS
Blanc de Blanc – layers of neutral tones that are easy to decorate with

Iconic – rug designs guided by architecture and other man-made formations

Travel Trek – pieces inspired by wanderlust and exotic destinations

Simply Put – modern solids with subtle textures that simplify design decisions
HAND-KNOTTED
RJJ10 Reconnext by Jenny Jones Izmir
Two new additions to the Reconnext by Jenny Jones collections are inspired by the Australia-based designer's personal memories. The ancient, crumbling city of Ephesus is recalled in these abstract designs where Jones and her family loved to visit during their time living in Turkey.
Traditional meets modern in the new Persian hand-knotted Paragon collection. A natural wool base serves as the canvas for lustrous, raised motifs in designer-friendly colors, seen here in the vintage-look gray and brown Charenton rug.
New! EBK01 Embark Paradis
Subtle shifts in color make the magic happen in the Embark collection of 100% recycled silk handknots. Soft and popular design-friendly colors are used in these one-of-a-kind lustrous, artisan-made rugs
The sophisticated yet relaxed Saga collection gets 11 new colorways. These hand-knotted pieces were made with every lifestyle and space in mind, combining simplicity with luxury.
HANDWOVEN
New! JUT03 Juliette Vanja
The hand-woven Juliette collection is part of the Blanc de Blanc trend, featuring layers of neutral tones and a subtle texture created by hand-printed patterns. Vanja's tan and natural colorway fosters a vintage look and transitional style.
HAND-TUFTED
New! ICO01 Iconic Saba
The hand-tufted Iconic collection stands out with playful, modern geometric shapes crafted from New Zealand wool and viscose. The Saba rug stands out in yellow and blue and features a lustrous finish and soft hand.
FLAT-WEAVE
The new, flatweave Torvi collection offers a West Coast, casual look. Natural wool yarns in varying thicknesses add volume and texture, while geometric patterns and neutral colors create an easy, modern vibe.
NATURALS
The new Fontaine collection is a fresh take on natural rugs inspired by traditional Scandinavian motifs. Crafted of wool, jute and cotton, the gray and white Galway design is at home in transitional decor.
New! PLT02 Plateau Moab
A unique, braid-weave technique adds a modern, nomadic pattern to the natural Plateau collection. The Moab design boasts a striking gray and white tribal pattern that's remarkably soft to the touch thanks to a wool, jute and cotton construction.
New! SAB01 Sabine Linden
The new Sabine collection features a unique texture achieved through a single-line, Soumak knotting technique. It's handwoven from jute and cotton, making these rugs soft to the touch.
This new addition to our Naturals Lucia collection is texture-rich and versatile in color. The Sauza rug is a balance of substantial and simple in a 100% jute construction.
PERFORMANCE
The new Brontide collection brings the look of an indoor rug outside. Resilient polypropylene in a braided design offers tons of texture and makes Brontide ideal for indoor and outdoor spaces.
The eco-friendly, performance Rebecca line gets four new colors this month, all featuring intentionally-distressed solid designs ideal for high-traffic spaces indoors and out.
PILLOWS
Hand-woven textures crafted of 100% cotton create tribal patterns and global style in the new six-piece Parable pillow collection. The Palmyra design pops in soothing blue and white.
New! STK02 Soul Trek Sida
The Soul Trek pillow collection offers earthy, modern, nomad looks achieved through a rigorous woven rug technique. Tribal patterns crafted of wool and polyester offer global style at a modest price.
POUFS
New! BUF02 Bluffs Sauton
The new Bluffs collection combines the flexibility of a pouf with the look of a rustic woven basket. Sauton's organic look is at home in a variety of spaces.
The popular Scandinavia Pouf collection expands to include a new, jute option. The Ystad pouf design conveys plenty of texture thanks to a spool weave created with natural materials.
ABOUT JAIPUR LIVING
Jaipur Living is a global lifestyle brand with a passion for people, product, and design. Known for its luxury rugs, poufs, pillows, and throws, Jaipur Living operates with a mission to create beautiful lives for its employees, customers, and artisans—all while preserving the age-old craftsmanship of handmade rugs. Through social initiatives and the Jaipur Rugs Foundation, the company supports more than 40,000 artisans in 600 villages by providing them with a livable wage, access to health care, leadership education, and opportunities for personal growth and development. Combining time-honored techniques and of-the-moment trends, every Jaipur Living product is as meaningful as they are beautiful.