ORLANDO, Fla.— Franchise Group has completed its acquisition of FFO Home and immediately will begin rebranding the more than 31 stores to American Freight Furniture, Mattress, Appliance.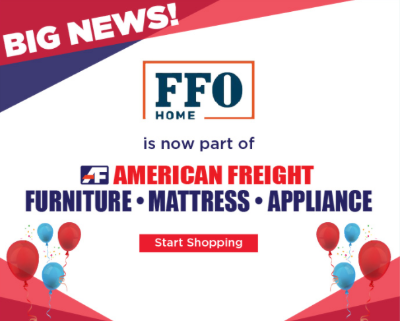 The retail conglomerate, which also owns Buddy's Home Furnishings and The Vitamin Shoppe, didn't disclose the purchase price for the Fort Smith, Ark.-based retailer, which filed for bankruptcy protection in November. Law360 previously reported Franchise Group could pay up to $13.5 million, including the draw on the debtor-in-possession financing facility.
FFO Home customers visiting the website are now redirected to the American Freight website for online shopping. The FFO stores throughout the Midwest will remain open during the conversion. A Grand Reopening event is scheduled for the first quarter.
"The FFO Home acquisition allows American Freight to accelerate its growth plans, including new market entries," Franchise Group CEO Brian Kahn said in a release Monday.
"It provides customers who used to shop at FFO Home with an enhanced customer experience, with additional products and payment options."
As the stores rebrand, core American Freight products and services will be available immediately, including the addition of appliances. Same-day-delivery is offered on in-stock items, and flexible payment options are offered for online and in-store purchases.
"We are excited about the FFO Home acquisition," said Will Powell, CEO and President of American Freight. "Our ability to use this acquisition to quickly enter many new markets where we do not currently have a presence, and preserve local jobs that might have otherwise been lost had FFO Home stores permanently closed, made this a win-win for American Freight and these communities we will now have the opportunity to serve."