PLANO, Texas — Rent-A-Center announced plans to acquire virtual lease-to-own company Acima Holdings in a $1.65 billion deal expected to propel its Preferred Lease business past $2 billion in annual revenues and its overall revenue past $4 billion.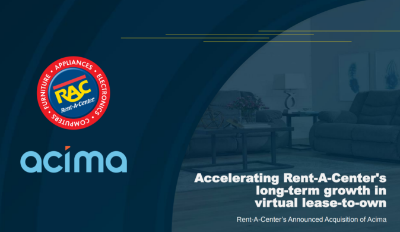 RAC will pay $1.27 billion in cash and about 10.8 million shares of its common stock currently valued at $377 million in a deal expected to close in the first half of 2021, pending regulatory and other approvals. The company has secured $1.83 billion in debt financing commitments from J.P. Morgan Securities, Credit Suisse and HSBC Securities in connection with the transaction.
Salt Lake City-based Acima is a fast-growing, profitable lease-to-own fintech company, "the best in the industry," Jason Hogg, executive vice president for RAC's Preferred Dynamix, said on a conference call with the investment community. It operates in more than 15,000 third-party retail locations and e-commerce platforms and will do about $1.25 billion in revenue and $225 million in adjusted earnings before interest, taxes, depreciation and amortization this year, the companies said.
With the planned acquisition and the potential to expand with national retailers and other accounts as well as into new product categories, RAC adjusted up its estimate on the virtual lease-to-own "addressable market" to the $40 billion-$50 billion range from a previous $25 billion estimate, Hogg said.
Under RAC Acima will continue to operate out of Salt Lake City, incorporating RAC's Preferred Dynamix platform "to create a frictionless LTO experience for consumers and retail partners," RAC said. Upon the closing, Acima's management team will report to Hogg, and the combined business will be reported in RA's Preferred Lease segment.
"In short, it moves us years ahead in our goal to establish a leading digital lease-to-own platform," said RAC CEO Mitch Fadel said on the call.
He said in a statement: "We all share a common vision to expand the virtual LTO offering across a broader set of retail partners and to meet the needs of more customers through an integrated omnichannel strategy. Acima will help us strengthen our organization, accelerate growth and increase our virtual partner base, allowing us to better serve more consumers with the flexibility of LTO."
Hogg said the combination "marries Acima's advanced decisioning with Preferred Dynamix's complementary and proprietary digital platform. The resulting set of fintech capabilities will support faster innovation, allowing us to bring aspirational brands to consumers across a broader set of e-commerce and retail partners."
Plano, Texas-based Rent-A-Center an omni-channel lease-to-own provider for credit-constrained consumers with about 1,950 Rent-A-Center company-owned stores in the United States, Mexico, and Puerto Rico, 460 franchised locations, an e-commerce platform, and the Preferred Lease business, the virtual and staffed lease-to-own business that partners with third-party retailers in-store and online.