Line offers a coastal lifestyle aesthetic that is expected to resonate with a wide demographic of consumers
HIGH POINT — With the introduction of its new Salt Life Home collection at the upcoming October High Point Market, Magnussen Home opens the doors to an entire customer base that embraces the coastal lifestyle.
For its dealers, this means the opportunity to introduce and sell a whole new take on coastal-inspired furniture to customers aspiring to this design aesthetic, whether they live near the ocean or not.
For years since its inception in 2003, the Salt Life brand has been synonymous with the coastal lifestyle, offering a wide range of apparel, accessories and beach gear for men, women and kids. Available through 2,500 retailers around the country, the products also are in about 30 of Salt Life's own stores around the country. Thanks to its partnership with Magnussen, the brand is now expanding into furniture.
In development for the past 18 months, the collection features 115 pieces spread over three collections of wood furniture and upholstery. Some 30% of the mix includes stationary and motion, including a mix of sofas, loveseats, chairs and sectionals with the balance being in bedroom, dining, occasional and home entertainment furniture.
The line is occupying an estimated 15,000 square feet of its 80,000 square-foot showroom in space 810 of the Main Wing of the International Home Furnishings Center. Included are three major collections that offer a good, better, best story within the product mix.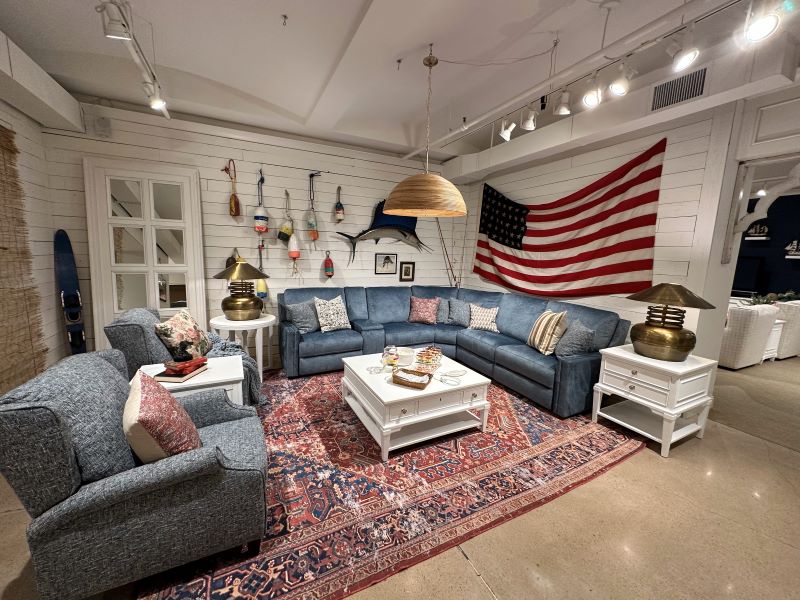 The opening/good price point is called Pleasant Bay. Available in a white painted finish, it has Nantucket and Cape-inspired New England design influences. Key pieces include two beds, including a wood panel bed and wood framed upholstered bed. In dining, there are three dining tables, including a rectangular leg table, a round to oval table and a 92-inch fixed-top oval table with a quartered planked top and a stretcher pedestal base with turned legs both of which highlight traditional New England design influences.
Similar design influences can be seen in the framed detailing on a panel bed and the tapered feet and legs of the same bed and a companion bedside table.
Table and four-chair sets in Pleasant Bay are targeted to retail from $1,499 to $1,699 and four-piece bedrooms fall within the same range.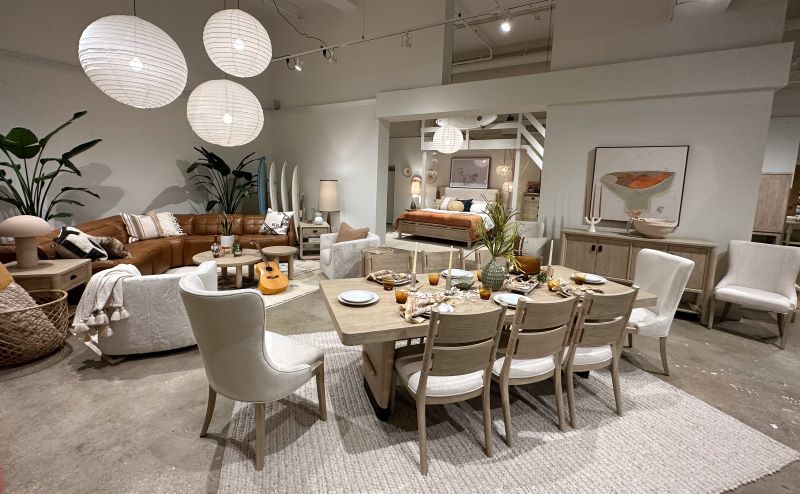 Sunset Cove has casual California-inspired design influences and is made with wire-brushed oak veneers in both Driftwood and White finishes. It has two beds including a panel bed with an upholstered headboard and featuring mixed media elements such as paper chord on the wooden headboard posts and top rail of the wood footboard along with metal accents on the base of the bed.
The second panel bed also has natural woven elements at the top of the headboard, further illustrating the casual California theme. The collection also has three dining tables including a double ped rectangular table, a round to oval table and a counter-height rectangular table.
Four-piece bedrooms are targeted to retail from $1,999 to $2,499, and a table and four chairs are targeted to retail from $1,699 to $1,999.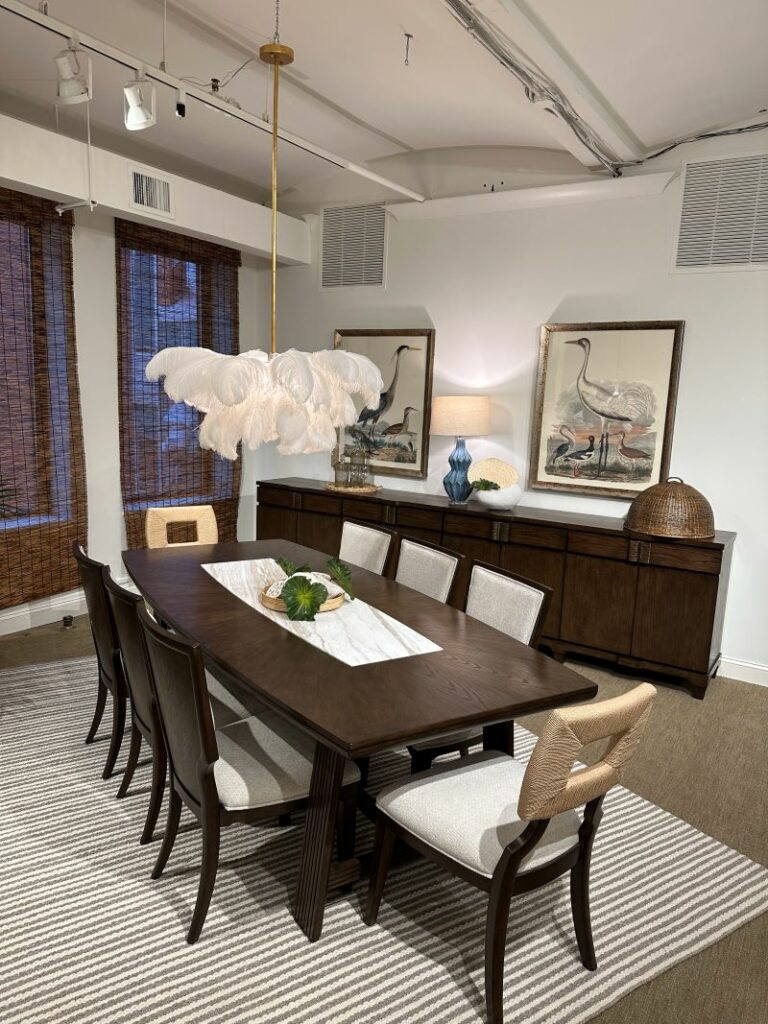 Sugar Mill, the third collection, has Florida and Caribbean-inspired design influences and is made with ash veneers in two finishes, a white wood-tone and a dark wood-tone finish. It has two beds, a wood panel bed and a second panel bed with a wood-framed upholstered headboard that features woven paper chord around the entire frame, as well as woven paper chord on the side rails and footboard.
There are three dining tables, including a rectangular trestle base table featuring a wood top with a marble insert, a rectangular leg table and a round table. It is priced similarly to Sunset Cove, placing both in the better and best segments of the line.
Elements of the casual Florida/Caribbean lifestyle can be seen in decorative elements such as the reeded bronze hardware on case pieces to other mixed media such as the paper chord seen on the framed upholstered panel bed and the back of a host and hostess chair.
Chris De Lisa, chief revenue offer of Magnussen Home, described the looks as geared to those who appreciate the coastal lifestyle and who aspire to have that look in their homes, regardless of where they live.
"They are a retailer that has a massive following for that beach and coastal lifestyle," De Lisa said of Salt Life. "Coastal used to be a niche, but it's no longer a niche. It's widely accepted."
Of the opportunity to create a furniture collection in partnership with Magnussen, company President Jeff Stillwell said, "Our goal at Salt Life is to bring the spirit of the beach lifestyle to our consumers nationwide, whether they live in a coastal community, or far away from the nearest body of water. Launching Salt Life Home gives us the opportunity to offer ocean enthusiasts timeless, high-quality home furnishings that reflect their favorite landscape and way of life."
De Lisa said that Magnussen will "leverage Salt Life's tremendous presence with their loyal customer base, which spans a wide generational and economic demographic."
"Jeff Stillwell says it best," he added: "Salt Life is fortunate to have 60-year-old-yacht owners just as passionate about the brand as the 30-year-old that fishes from their buddy's boat. Salt Life has a broad customer base that encompasses 40-year-olds that still think they are 30 and 30-year-olds that think they are 20."
Salt Life Home is Magnussen Home's first major licensed collection in recent years.
During the mid 2000s, the company offered licensed collections in partnership with the North Carolina Biltmore estate and fashion personality Cristina Ferrare. Due to Salt Life's presence as a brand with a large national following and lifestyle focus, it expects this latest licensing partnership to have even greater longevity and appeal, thus helping set itself apart in the marketplace.
"There hasn't been anything new in our industry to hang your hat on, and Salt Life covers such a large spectrum of ages and economics," De Lisa added. "So it was an exciting opportunity for us to jump into that arena. And the support they are going to show our retailers by sharing all this good stuff on social media and on their website was a driving force for it."
For example, even before the official launch and anticipated landing at retail next spring, Salt Life already placed a SL (Salt Life) Home tab on its website, offering a brief teaser description of each collection before the official launch at stores in the spring of 2024.
Once the line begins to place at retailers around the country, the site also will have a dealer locator showing consumers where it can be purchased in their areas. In other words, it won't be sold on the Salt Life website.
Instead, the Salt Life website along with its presence on social media, including an estimated 2 million followers, is expected to drive a significant amount of traffic to the stores of those retailers carrying the furniture line.
"Salt Life Home will bring the brand's iconic coastal aesthetic to retailers nationwide, both in-store and online," the company stated on its website. "The debut collection will offer consumers a variety of products and styles well suited for living, dining, home entertainment, office, and sleeping spaces."
"What our retailers now need is someone to help drive customers to their stores," De Lisa added, noting that the brand's strong online and social media presence will help accomplish that key goal. "Salt Life is going to help drive customers into our customers' stores."