Aggressive product launches keep interest high among dealers who are now ready to freshen their floors
HIGH POINT — Activity at this week's premarket received strong early reviews from manufacturers and importers that showcased new case goods and upholstery aimed at freshening dealers' floors as they look for a rebound early in foot traffic and sales as product starts to hit their stores between now and early next year.
The introductions come at a time when business remains slow for some dealers, although some have reported strong Labor Day sales that many hope will grow in the remaining months of the year and beyond.
And while business may be down from the breakneck pace of the past 18 months or so during the height of the pandemic, a key message heard by many exhibitors was that dealers are looking for newness on their floors, particularly as they continue to sell through inventory to make way for updated styles in fabric, finishes and forms.
"Most of the people I have spoken to are optimistic," said Mike Harris, president of Hooker Furniture, noting that the company has 40-45 premarket appointments on the books for the event, which officially started Sunday afternoon and continues through today. "The year has been a challenging year — nobody is hiding behind that. But I think Labor Day for most people was either exceptionally good, but at worst good. Nobody I have spoken to had an OK or down Labor Day, and prior to that, August was a pretty good month for most people I have spoken to. We have seen a consistent increase over last year in order rates, really for the last two and a half months."
"I don't think anybody is where they want to be, but I think people feel much more optimistic that the future looks good," he added.
At premarket, Hooker Furniture, a division of Hooker Furnishings, showcased two new collections that reach different customer bases. Bella Donna is a sophisticated traditional collection that is made with cherry veneers in a darker finish called Caviar along with some pieces available in a pearlescent accent finish called Akoya.
A second major collection, Americana, offers the look and feel of heirloom pieces passed down from an earlier generation. Made with oak veneers, these are updated with three different finishes that are available on various pieces, a light tone called Daisy, a natural oak tone called Honey and a darker oak tone called Molasses.
Along with bedroom, dining room and occasional, the collections also feature companion upholstery pieces that complement the respective design aesthetic.
Sister domestic upholstery resources HF Custom and Bradington-Young showed several new upholstery groups, with more pieces expected to arrive for the October market.
A.R.T. Furniture said it was expecting to see 30-40 accounts during premarket, said Doug Rozenboom, president of A.R.T and sister company Jonathan Charles. A.R.T.'s premarket mix included three collections, offering looks for distinct consumers in the marketplace: the 28-piece Montage, which has contemporary casual design influences, the 30-piece Revival, which offered a sophisticated updated traditional design aesthetic, and Cove, a 30-piece transitional collection.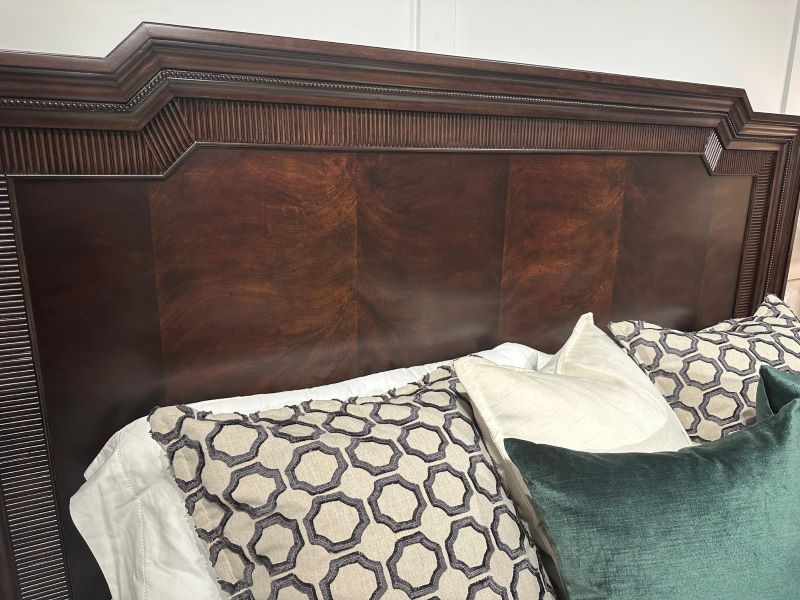 Early reaction from dealers was positive largely because of the broad style direction offered across all three collections, which are expected to ship in May, Rozenboom said.
Bernhardt showed two new case goods collections: the 23-piece rustic modern Arcadia, made with white oak veneers and solids in a Clay finish and featuring faux stone elements and raffia accents; and the 27-piece Tribeca, a rustic transitional collection made with oak veneers in a light brown finish called Aurum and a darker brown/black wood tone finish called Tadon. It also features aged steel accents on the bases of tables and case pieces in a dark finish called Barlow.
Both collections feature natural rustic elements, offering a contrast of modern and transitional forms.
Bernhart also showcased a number of new upholstery SKUs, both in stationary and motion, and also offered new pieces in its Interiors division, including 19 new wood pieces and 10 new SKUs in upholstery.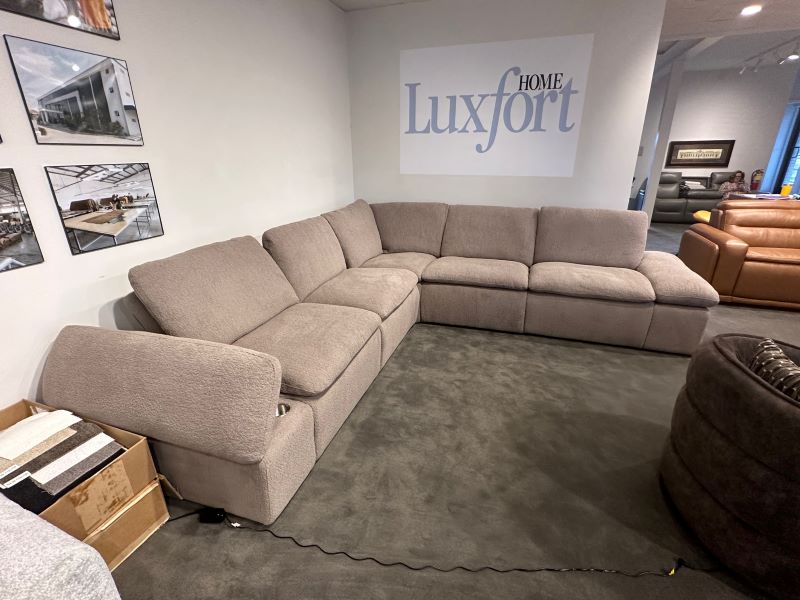 Other upholstery resources also featured a generous offering of product, including motion furniture resource Luxfort Home. It showcased new sectionals in its CloudPower seating line, which offers a down fiber blend in its cushions, while also bringing a stationary look to the motion category as well as functional features such as storage cupholders, bulk storage for pillows and blankets, and USB charging ports between the cushions. They retail from $3,000 to $4,000. The company showed three versions at premarket and expects three more in time for market.
In addition, it showed several new PowerSeat swivel recliners with built-in storage, phone holders and reading lights that retail from $599 to $799 as well as several new swivel stationary chairs that retail from $499 to $599. It also showcased several new leather club chairs that retail from $699 to $799 plus some new power beds, including nine existing models that retail from $999 to $1,299.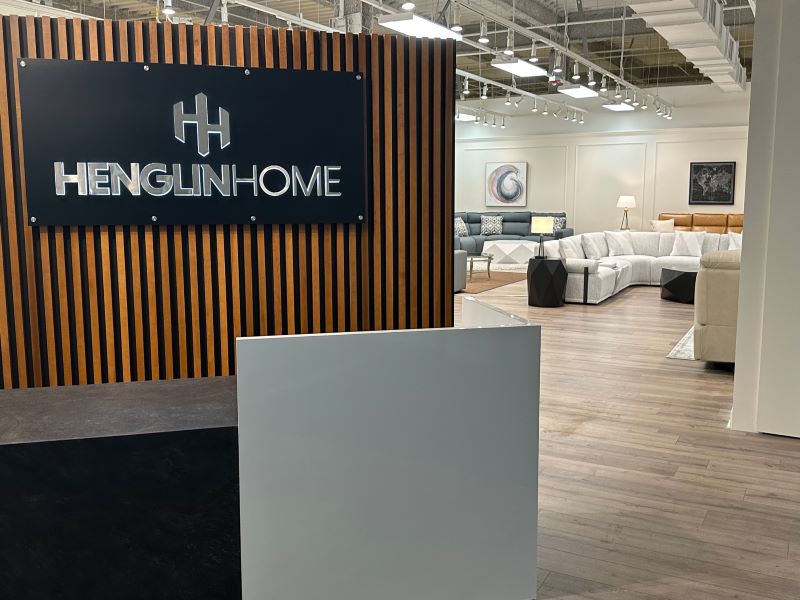 Upholstery resource Henglin Home made its debut at premarket, showing some 40 collections that include a mix of motion upholstery, sit, sleep and lounge seating and seating with lift and massage functionality. Another 25 groups are expected in time for the October market, said Todd Evans, president of Henglin Home North America.
Evans expected attendance to be strong, particularly for its first time at market, with 35 accounts that planned to visit between Saturday and Tuesday.
Another major statement in upholstery at premarket came from Legacy Classic | Modern. It has focused on case goods for its 24-year history, but came out this market with a new motion line. At premarket, the company gave retailers an early preview with three of these groups, which will expand to a total of 13 by the October market.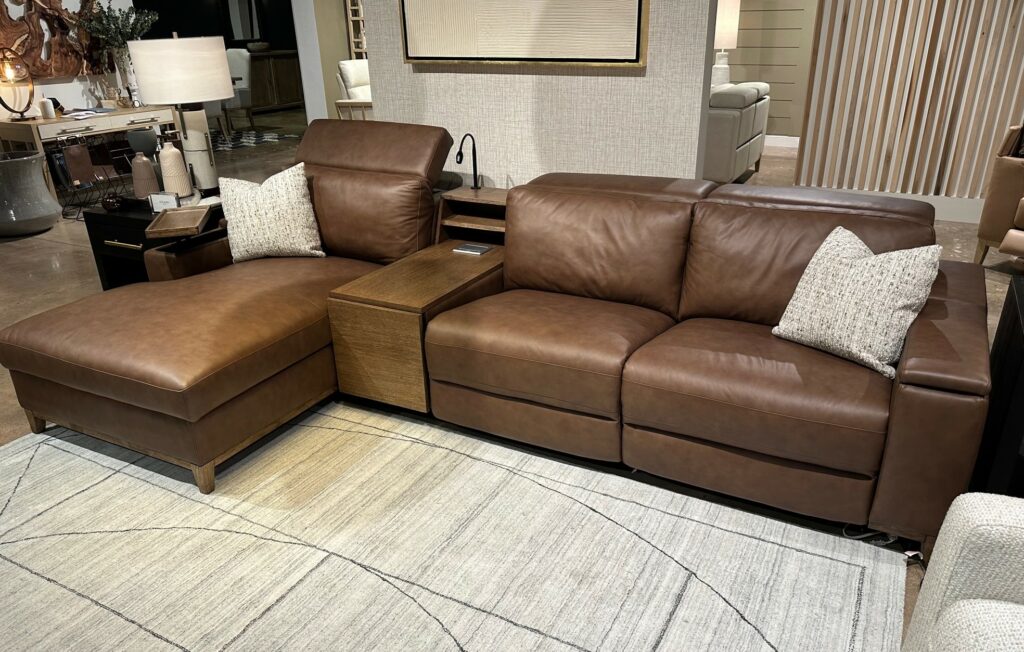 Featuring a mix of sofas, sectionals, loveseats and recliners, the line showcases the company's capabilities in wood furniture production, adding not only wood trim and bases, but also wood consoles and side bookcase units. These elements marry with the wood species and finishes on some of its top-selling occasional groups, completing the look.
Other functional elements include cupholders, wireless charging and swivel trays, to name a few.
Chris Pelcher, president, said that early reaction has been strong to the motion upholstery line as well as the company's three new case goods collections.
"The energy level is much higher," Pelcher said, comparing this market to more recent premarkets. "You feel that there is a 'want to buy.' You have to have an open to buy, but the want to buy is there. It is a positive vibe."
Case goods manufacturer Vaughan-Bassett said it anticipated about 40 accounts at premarket, many of which were coming by to see its new solid wood dining it is offering in its Artisan & Post line.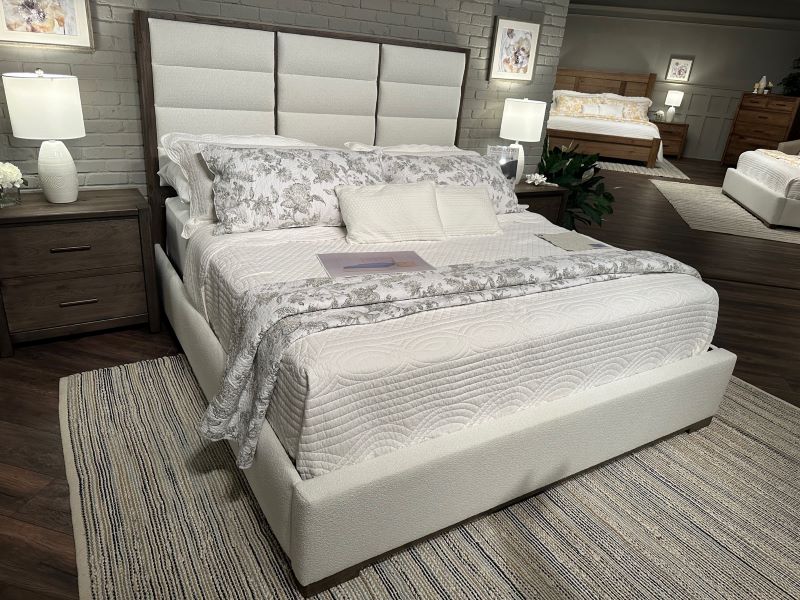 Featuring three tables and a mix of solid wood and upholstered chairs, the mix has received strong response so far and is expected to ship by early October.
Company President Doug Bassett also said that interest was strong in the first new bedroom offered in its licensed collection with HGTV personalities Ben and Erin Napier since before the pandemic. Made with oak veneers, it offers two beds, including a casual contemporary upholstered bed with wood accents on the headboard and available in two fabrics that retails at $1,399 in queen and a wood panel poster bed that retails at $1,199 in queen.
Bassett said that he anticipates demand to be relatively strong in bedroom at market as some dealers held back on the category earlier in the year, not knowing what the anti-tipping standard for clothing storage units would be. That has been resolved as the new mandatory standards were approved just before the spring market and have now gone into effect on units made after Sept. 2.
He added that as inventories have begun to stabilize for retailers, "More people will be ready to freshen their floors," which has positive implications for ordering before, during and after the October market.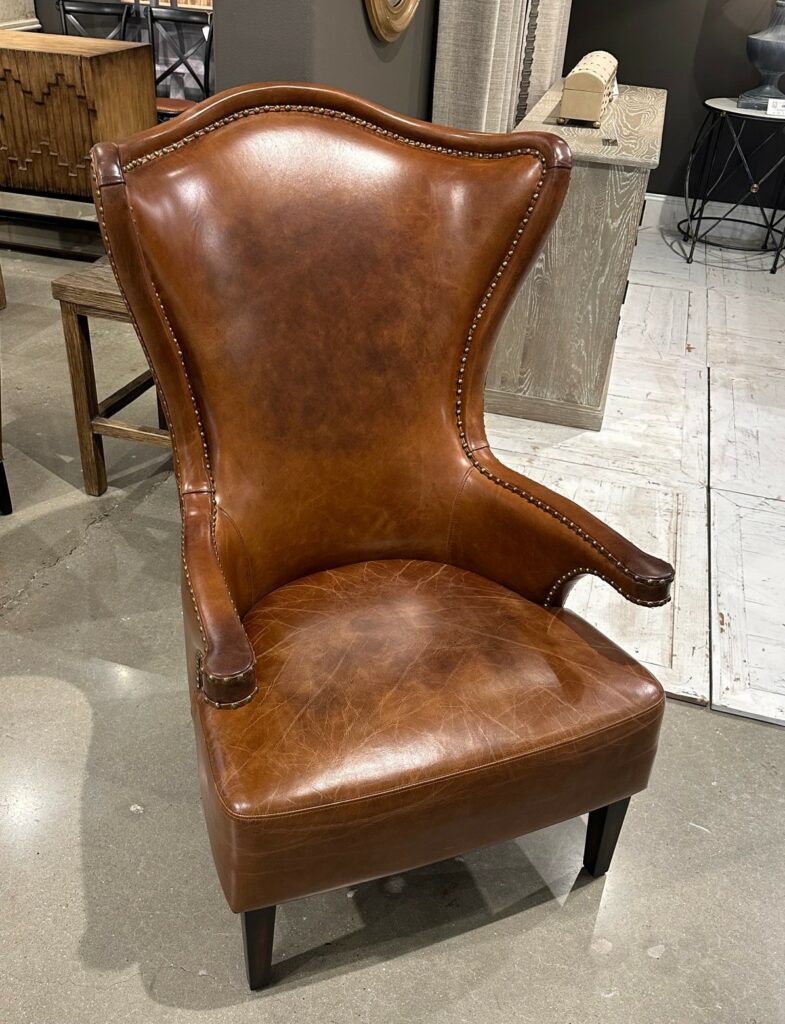 Case goods resource FD Home showed several new bedrooms at premarket retailing from $1,199/$1,299 to $1,999 for a four-piece set to $2,099 for a three-piece group featuring a storage bed. With the new groups, President Steve York said the company is following up on its success from last market where it cut five of five groups introduced. In addition to the new bedrooms shown at premarket, the company is adding two more bedrooms at market and a new dining room for October.
Luxury furniture resource Sarreid Ltd. is preparing for one of its largest introductions in recent memory, with some 200 new items planned for October. About 75 of the pieces both in case goods and upholstery were at the showroom for premarket.
Company President and CEO Brad Cates explained why the company planned such an aggressive launch at this time.
"The product coming across my desk was such a value and was so aesthetically pleasing I just couldn't say no," Cates said. "We are poised as a company to go to the next level. We want to be the best resource for our customers that we can."