72% of those surveyed said they are still experiencing challenges despite reports of supply chain improvements
CAMPBELL, Calif. — A recent survey by last-mile delivery specialist DispatchTrack showed that while some aspects of the supply chain may be improving, a majority of supply chain professionals are experiencing major challenges ranging from fuel costs to driver shortages and soft business conditions that are resulting in lost business.
The company completed its survey of 100 logistics professionals in May. Seventy-two percent of those surveyed said that they are still experiencing supply chain challenges. Some 59% identified fuel costs as the top challenges and 46% said inflation was a top challenge.
This was followed by 41% who identified delays outside their control as a top challenge, 38% identifying unpredictability, 32% saying driver shortages and 30% saying losing business because of economic conditions. The top concerns over the next six months include fuel costs (51%), inflation (44%), delays outside their control (31%), driver shortages (32%) and losing business because of the economy (48%).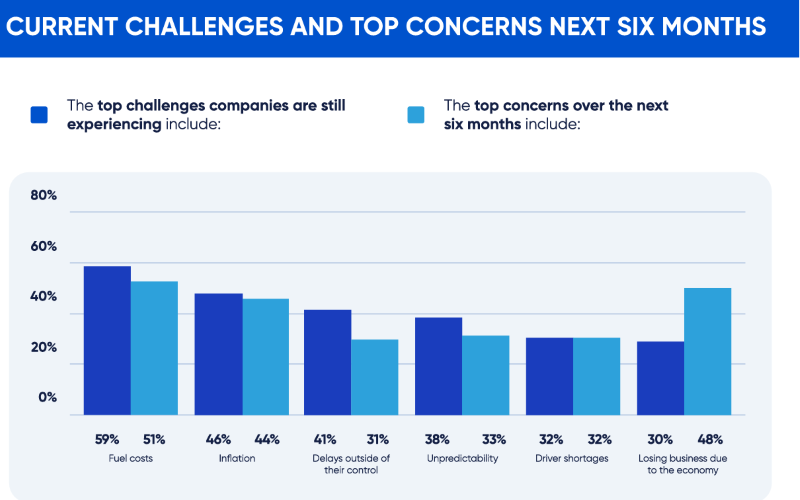 Among supply chain organizations, inventory supply shortages this year was a concern for 30% of those surveyed, with 70% saying they aren't concerned, while 26% are concerned with inventory oversupply. Another 74% said they weren't concerned about this issue.
Here are some other issues identified in the survey:
+ 62% expect their operating costs to be 10% to 20% higher this year than in past years, while 17% expect them to be 25% to 50% higher.
+ 40% said they plan to increase fees, while another 60% said they do not.
+ 12% said they had to limit warehouse space because of rising interest rates.
The report also shared the following insights regarding the 2023 business outlook:
+ 61% said that they still have a positive business outlook for 2023, with another 30% being uncertain and 9% saying they have a negative business outlook.
+ 57% said they plan to increase their use of technology or adapt new solutions.
+ 55% said they plan to hire more drivers or increase delivery capacity.
+ 31% said they plan to add additional warehouse space.
+ 24% said they plan to invest in more sustainability initiatives.
"The current economy is definitely having an impact on businesses and creating a wide range of supply chain challenges," said said Satish Natarajan, DispatchTrack co-founder and CEO. "That's why it's never been more important for businesses to deliver an excellent customer experience and preserve customer loyalty. Compromising service just isn't worth it. Investing in the right systems and technology is absolutely key to being more cost-efficient while staying customer-centric. Ultimately, that's key to weathering supply chain challenges."
The online survey was performed between April 11 and May 2 among 101 logistics professionals that spanned several core industries including furniture and appliances, medical and auto parts, to name several. The size of the responding companies ranged from between 1 and 10, 11-50, 51-99 and over 100.