As a guy that tries not to mince my words, let me begin by saying 2023 got off to a start that was sadly uninspiring, but not totally unexpected.
Home sales remained soft, mortgage rates climbed, consumer confidence dipped, prices for food, utilities and gas remain high and the band played on.
While I want to be clear that I'm not suggesting we are sailing uncertain waters while on the Titanic, I am calling for an extended period of rough weather ahead for both home furnishings e-tailers and brick-and-mortar retailers.
The latest numbers I've seen for e-commerce sales show that for the first quarter of 2023, online sales totaled $253.1 billion, a decrease of 16.5% (±0.7%) from the fourth quarter of 2022.
And as HNN's Tom Russell recently reported, "Year-over-year furniture store sales slumped again in March, although some of the decline could be attributed to deflationary activity in the sector as companies have been discounting goods to reflect lower freight rates and also to help reduce still-high inventories at retail."
According to the latest retail sales figures announced by the Department of Commerce, the sector saw sales decline 2.4% to $11.8 billion from $12.1 billion in March 2022. Sales also fell 1.2% from $12 billion in February.
As for brick-and-mortar stores, the traditional yardstick often used to measure sector health is foot traffic activity. And so far this year, store visits are not looking too good.
I recently saw a report on retail foot traffic put together by UBS Evidence Lab that listed scores of retailers including Macy's, Nordstrom, Kohl's, Home Goods, etc., and the decline in foot traffic at those retailers was alarming, with declines of between 17% and 30%.
In the event you are not familiar with UBS Evidence Lab, they define themselves as follows: "UBS Evidence Lab is a sell-side team of experts, independent of UBS Research, that work across 45 specialized labs creating insight-ready data sets for 4,500+ companies of all sizes."
Here in our sector, we are still grappling with excess inventory and with our history of deep discounting, don't be surprised to see a flurry of sales, promotions and other strategies designed to clean up and clean out a glutted pipeline.
But even deep discounts might not entice consumers, who most likely have more on their minds than buying a new sofa or some case goods.
And who can blame them, especially as credit conditions continue to tighten, their savings are dwindling, and the cost of living seems to continue to go nowhere but up?
Regarding consumer debt, a story I saw online from CNBC, said that, "Total consumer debt hit a fresh new high in the first quarter of 2023, pushing past $17 trillion even amid a sharp pullback in home borrowing."
The total for borrowing across all categories hit $17.05 trillion, an increase of nearly $150 billion, or 0.9% during the January to March period, the New York Federal Reserve reported. That took total indebtedness up about $2.9 trillion from the pre-Covid period ended in 2019.
When one factors all of this together, is it really that surprising that foot traffic is off?
However, what is surprising is seeing declining foot traffic for retailers like Walmart (down almost 9%), Costco (off more than 6%) and Target (off by more than 6%).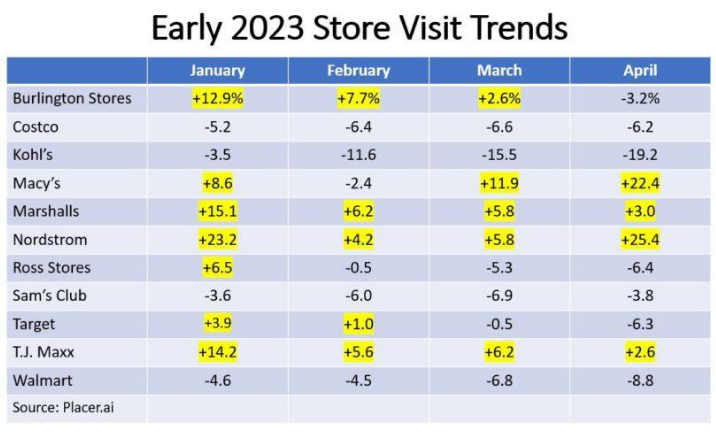 In a recent report, Placer.ai takes a look at the economy and the impact it is having on retail foot traffic. You can access it by clicking here.
The report concludes that while near term is likely to pose challenges to retail, there are signs of bright spots on the horizon. The report says that even though consumer spending dipped in March, consumer confidence improved.
The report also suggests that while ongoing concerns about the economy may have stymied spending, pent-up demand could have a positive impact on Memorial Day sales.
Stay tuned, as only time will tell.