SFC Sustainability Tour helps educate buyers about company efforts to make their products more sustainable
HIGH POINT — In the world of home furnishings, there's often a lot of talk about sustainability and how companies are trying to lower their carbon footprint.
But opportunities to actually learn about those initiatives in person with the product center stage often can be elusive.
Thanks to the Sustainable Furnishings Council, several companies had that opportunity to communicate their sustainability story to an audience of 35 designers and retailers attending last month's High Point Market. On April 22, which also coincided with Earth Day, the SFC and LiveABLE Environment hosted a Sustainability Tour that included five showrooms in the Commerce Concourse and Centennial Wrenn neighborhoods at market.
The five companies, which are SFC members, are Phillips Collection, Woven, Greenington Fine Bamboo Furniture, Copeland Furniture and Porter Designs. These are all companies that have marketed their sustainability story in the past. The tour gave them the chance to communicate it live and in person at market, which helps the message resonate even further.
At each showroom, SFC program director Angie Kenny interviewed various company representatives about their individual sustainability stories on a host of topics including materials sourcing, manufacturing and finishing processes, packaging and shipping.
"Designers and buyers left the three-hour tour inspired and empowered to make more sustainable choices," Scarlette Tapp, the SFC's executive director told Home News Now, adding that seeing and hearing about these stories in person also left them knowing what questions to ask about sustainability when visiting other showrooms at market.
Jason Phillips, vice president at Phillips Collection, said that many buyers already come in with information about sustainability and thus know what questions to ask on the subject. This time was no different, he said, noting that the event allowed Phillips to share its story. Its talking points ranged from its use of woods slated to be harvested in the countries where it sources to its use of water-based finishes, not to mention the use of just about every part of the tree, including massive roots that can go 100 feet deep into the ground.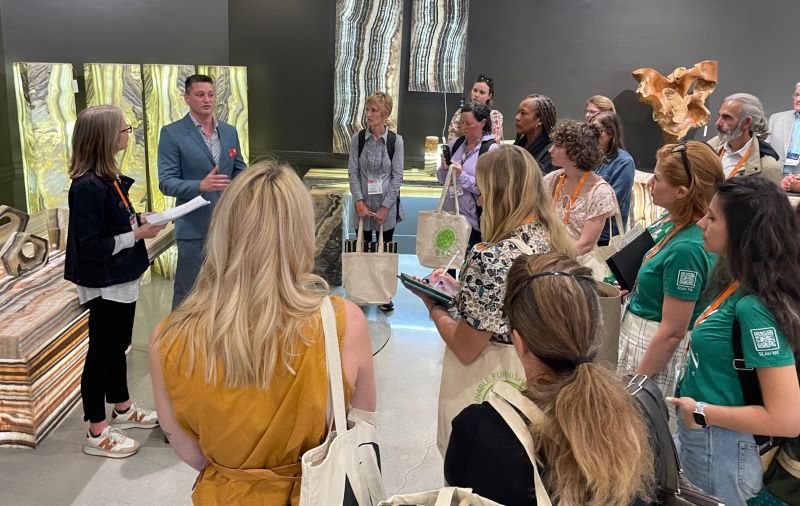 The company also helps plant trees overseas and sets up botany classes in Southeast Asia to help locals and their children become more resourceful in the planting of trees and other vegetation.
It was pleased to help share its sustainability success stories with buyers at market.
"We loved it," Phillips said of the event, adding that this was not a sales pitch to buy Phillips products, but rather help educate buyers on its sustainability efforts. "It was capped at 35 and hit 35. It could have even been bigger."
Mary Settle, head of marketing at Greenington Fine Bamboo Furniture, said that the event was positive in that it allowed each company to share its own unique sustainability story. At Greenington, that story is the use of 100% sustainable bamboo in its bedroom, dining and accent furniture line. This plant grows very quickly and is harvested in about five years for use in products such as furniture. Its finishing process also involves a nontoxic mix of heat, steam and pressure to create various wood tones.
"They each have their own recipe," Settle said of the selection of five different "mechanical" finishes. "It is about what they do to it versus what they put into it."
The company also talked about the method of harvesting, noting that its China factories use materials that are grown by local farmers. This provides the farmers an ongoing source of work and income as they cultivate new plants all the time that grow and mature at their own pace.
"The farmer cuts it when he determines when it is mature," Settle added, noting that new shoots are growing all the time as the plants spread rapidly. "There is no disruption of the forest floor. … You don't have to propagate it. It propagates itself."
At Porter Designs, the sustainability story lies in its use of eco-friendly materials in its upholstery line. This includes fabrics that are made from recycled plastic bottles, part of an ongoing relationship with Repreve and Culp, which supply the sustainable materials and finished product.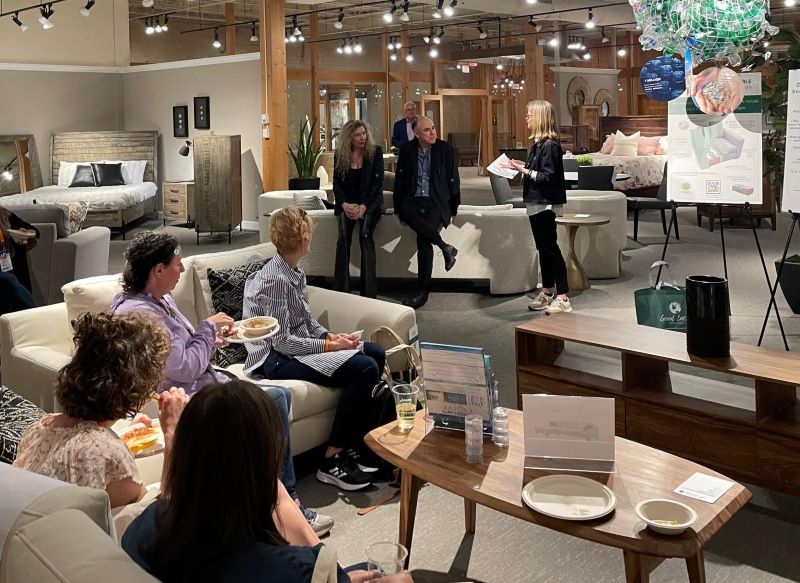 Those in attendance on the Sustainability Tour were curious to learn more, from ways they could display the sustainability story on their retail floors, to asking for video presentations and other marketing materials to help tell the story to their customers.
"It was just fun," said Julie Grant, Porter Designs' marketing director, of the tour. "We explained the whole story and people asked good questions. Unfortunately, there seems to be a divide between people who are passionate about it and those who don't care."
David Weiss, president, said that the company has received strong feedback for its approach to sustainability.
"The group was very complimentary about our speed and depth of development and said that we have taken it further than anybody that they have seen," he said. "Which was nice because there is some genuine apathy out there, which is a downer."
The SFC plans to continue helping member companies spread the message, as similar tours are planned in the future. The next one is planned for the October market when the organization will bring buyers to showrooms in a different neighborhood at market.