Company's unique design footprint creates thousands of configurations in bedroom, dining, occasional, entertainment and office furniture
ANDOVER, Mass. — Furniture manufacturer FiVO Design is looking to redefine the modular furniture category with a flat-pack, easy-to-assemble line that can be put together and taken apart in minutes.
Developed and engineered by long-time cabinet-maker and architectural millwork manufacturer Stewart Junge, with design, sales and creative support from his wife, Deanna Junge, the line includes bedroom, dining room and occasional pieces that are pieced together with Baltic birch plywood components that are machined for maximum yield and efficiency.
The company got started during the height of the pandemic in early 2021, with the Junges working the first half of the year coming up with designs and prototypes. That spring, they named it FiVO Design.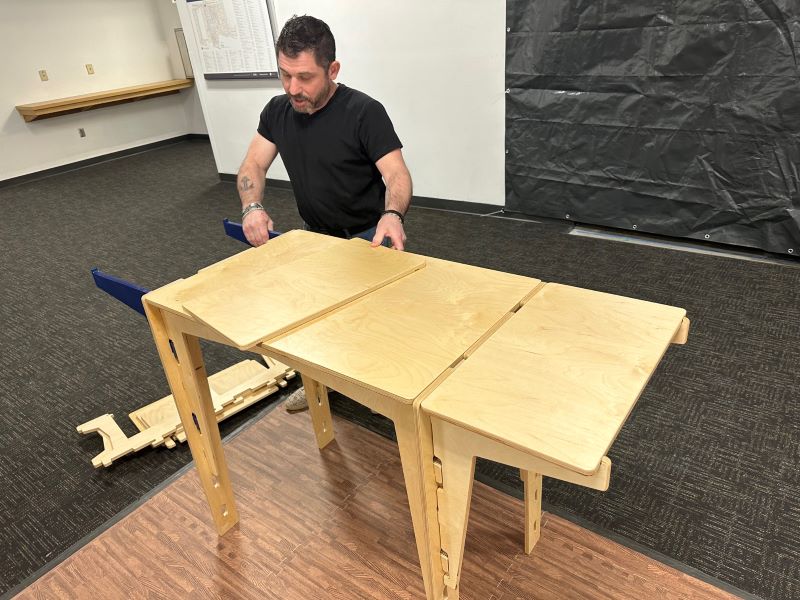 Using a design footprint called MOD5, it starts with individual panels that can be built into pieces such as a table or desk, for example, that the company said can be customized to fit any space large or small. These and other SKUs are pieced together with a patent-pending hook and slot joinery called an Infiniti Joinery System that allows users to configure the product in any size or item they choose, with no-tools assembly.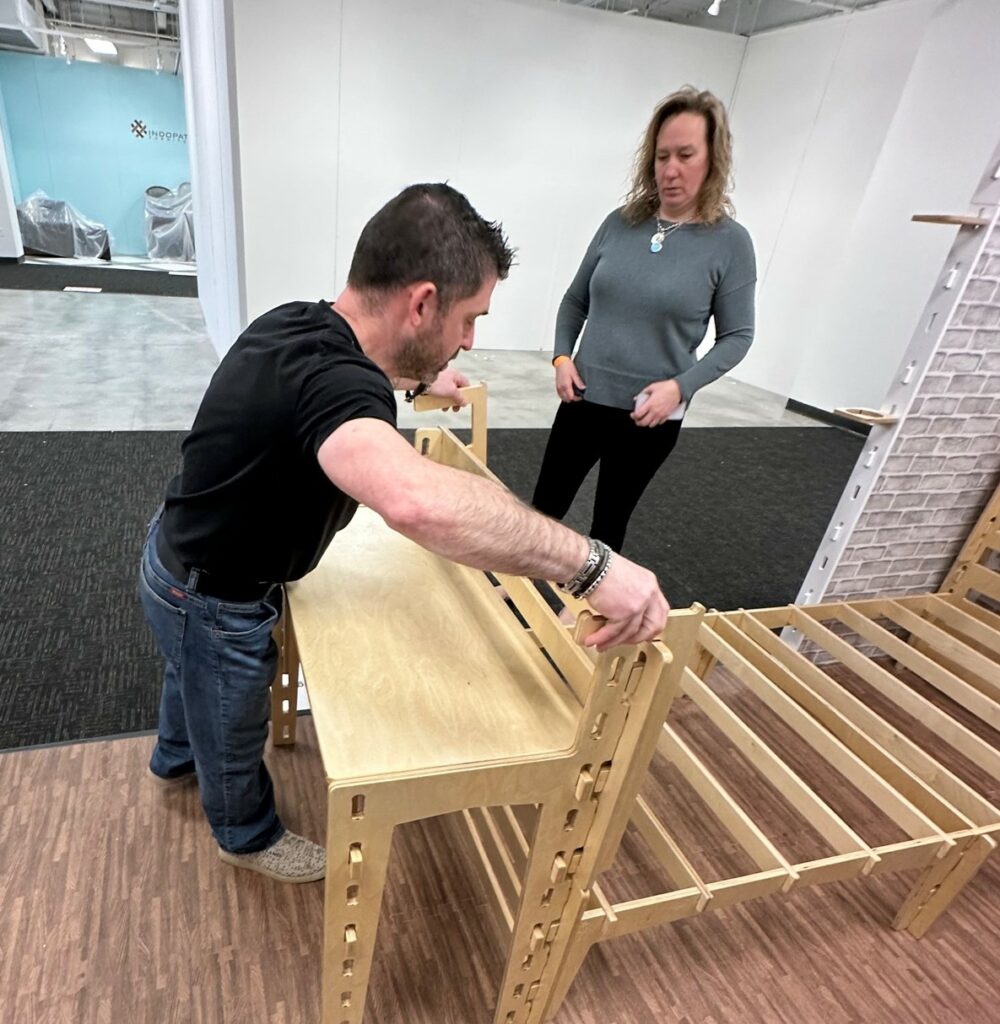 "I broke down the joinery to its most simple forms," Stewart Junge said.
These pieces can be assembled in under a minute by linking the components together much like pieces in a puzzle. The difference is that the components are uniform, meaning that they not only go together easily with no need for instruction, but have stability that supports their intended use.
And thanks to this unique joinery system, the line includes an estimated 12,000 different configurations — some of which were developed using scrap pieces of wood — such as benches, bar carts, wine racks and plant holders, for example, highlighting a sustainability story that company believes will resonate with many consumers.
"When we designed this, we wanted to build something that can be changed over time and be passed down," Deanna Junge said, noting that the goal is to avoid having it just disposed of in a landfill when the end user simply gets tired of it.
Adding further to the versatility of the design, units also are height adjustable, as the slots are positioned about 5 inches apart. This means a regular height table can be easily transformed into a counter or bar height configuration while a desk surface can easily be changed from a sitting to a standing height, for example.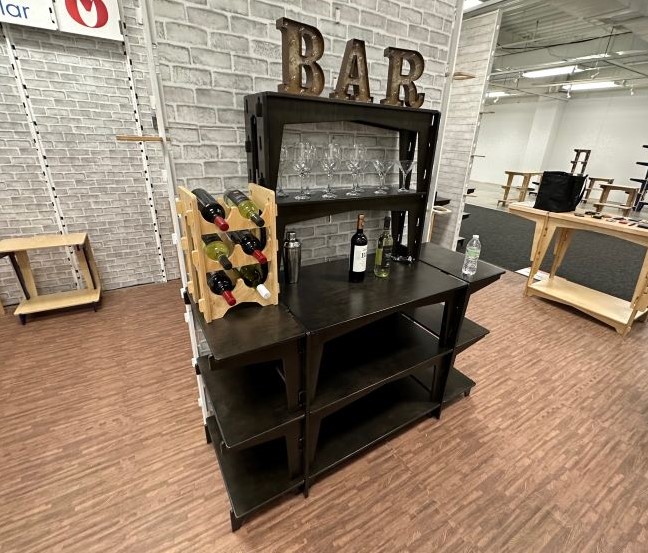 Pieces also can be as quickly broken down as they can be put together, meaning a table or bench can be easily moved to a new home or stored away when not in use.
"It's lifetime furniture," Stewart Junge told Home News Now. "There are so many applications for it. … You can do whatever you want with it."
The company also has hired industry veteran Rick Stroud to oversee the development of the brand and the implementation of a sales strategy that is marketing the line to e-commerce platforms and brick-and-mortar locations throughout the U.S.
"Bringing a new concept and line of furniture to market requires perseverance, a bit of finesse and ultimately the right team of professionals," Stewart Junge said. "Our search for a sales leader with the right experience and passion for what we are doing led us to Rick. We are excited to have him on board."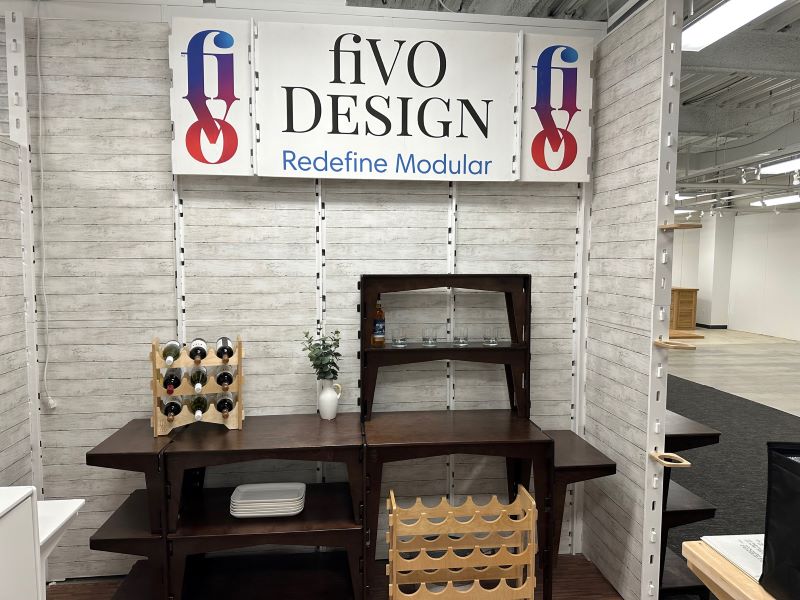 The company has shown the line at two previous High Point markets and also is showing again in April at the Mezzanine Level of Market Suites, Space 7055.
While the husband and wife team said it is a challenge to bring something so different to market, they said the industry has been supportive ranging from providing feedback on the product to helping introduce them to the right people and organizations, including the Sustainable Furnishings Council.
"From the day we set foot in High Point, we have met some incredible people," Stewart Junge said. "So many people have been willing to help."
The efforts appear to be paying off as the company has started to receive some orders, which it is producing in its 16,000-square-foot building the family owns in Andover. In addition to machining the parts, the facility also finishes pieces in three custom finishes including Birch, Hazelnut and Smoke. The company also is working with printed materials that mimic walnut grain patterns, plus paisley-inspired designs.
For more information, visit www.fivodesign.com.