MIAMI SPRINGS, Fla. (January 9, 2023) – Adjustable base specialist Renaissance Elevated Sleep Technology (R.E.S.T.) will unveil its new space in Building B, 2nd floor, and new products at the upcoming Las Vegas Market.
Showing for the first time in its own space, B-270x, R.E.S.T. will feature two brand-new adjustable bases offering special functions for target markets. The company will also highlight its highest performing adjustable base from its flagship five-base program introduced in 2021.
The new Zaffiro is an adjustable base loaded with features including a special "athlete recovery" button that places the individual in a position considered optimal for increased blood flow and recovery during sleep. Other features include lumbar support, independent head tilt, massage, digital remote control, and multi-color underbed lighting. The base offers multiple options to customize the legs and fabric. Zaffiro is the first base to be introduced from the company's higher-end Jewel collection.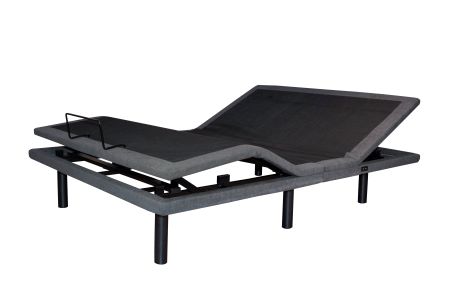 "The 'athlete recovery' position is medically proven to lower blood pressure and improve recovery times by as much as 30%. With Zaffiro, the position is available to you with one touch of a button," said CEO Paris Fealy.
R.E.S.T. will also introduce a medical-grade adjustable designed for limited mobility individuals or those with health issues that require extra support for sleep and moving in and out of the bed. The bed can be used in both residential and assisted living settings. Its key feature is the ability to move up and down on a vertical axis. It can be lowered all the way to the floor, mitigating falls out of bed, and can be elevated to avoid strain to caregivers while assisting the individual in bed.
"One of our goals is to help the consumer view the adjustable base as motion bedroom furniture and something they want to or need to have in the home, regardless of lifestyle, age or health condition. It is clinically proven to improve sleep and overall wellness," said Fealy.