Entry-priced lineup available in two seating depths and two fabric styles
HIGH POINT — During the fall market cycle, Flexsteel is showing the full mix of its entry priced Charisma upholstery line, featuring four collections that offer unique styles and fabrics available on sofas, loveseats, chairs and sectionals.
The company showed six vignettes in one fabric at the summer Las Vegas Market. At this week's Premarket, it showed a total of eight in the two fabrics available across the line.
Two of the four groups offer 91 inch frames and 22-inch standard seating depths while the other two feature 94-inch frames and 25-inch XL seating depths. Track arm and slope track arm footprints are available with the standard size seating and roll arm and flare arm footprints are available with larger XL seating.
Sofas are targeted to retail at $999 for standard sizes and $1,099 in the XL footprints. Sofas in the regular Flexsteel line retail from about $1,599 to $1,899.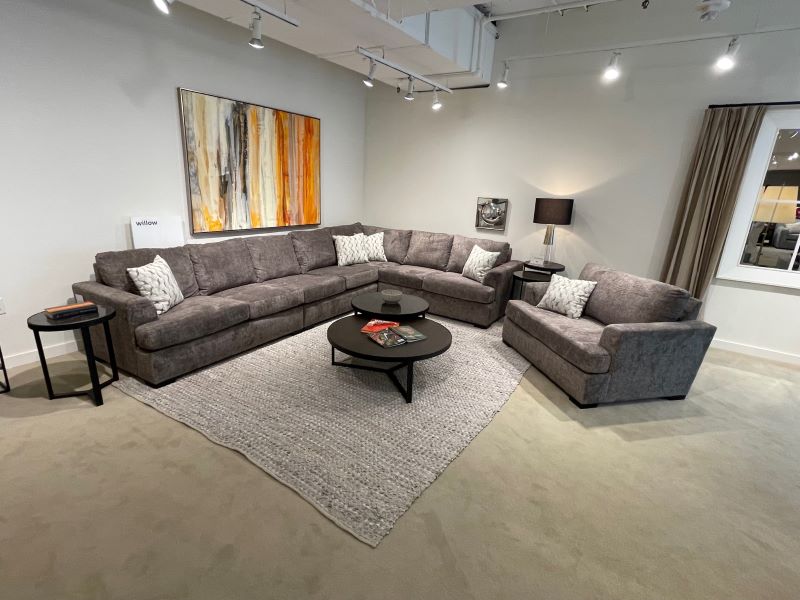 Sectionals in Charisma are targeted to retail at $2,499 and $2,999 with a chaise.
Flexsteel is producing the line at its Mexico production facilities and has already received positive response, the company told Home News Now at Premarket. Having already placed orders for the mix, product will begin shipping in mid-October on half and full truckloads along with frames in its SouthHaven upholstery line also produced in Mexico.
The company not only received positive response to the groups it showed in person in Las Vegas and at Premarket, but also from photos that it has shown dealers on the road.
Officials noted that the cost savings come from production efficiencies resulting from the two specific size footprints and the limited fabric selection. They added, however, that Charisma is built with the same quality, comfort and durability that Flexsteel is known for across its line.
The lower price point also gives the company a chance to reach a younger consumer base that moving into smaller single family homes, condos or apartments.
"As they go into their first home, they need this type of product," said Tim Newlin, vice president, product management at Flexsteel. "We can speak to the consumer with this brand."
The company is showing the full Charisma line in a dedicated portion of its 50,000-square-foot showroom in space C-558 of the International Home Furnishings Center.