HIGH POINT — WithIt's the women's leadership development network for the home and furnishings industries, announces that fourteen scholarships will be awarded this year to young women from nine universities. This year's applicants majored in industrial design, interior design, furniture design, architecture, textile design, business and supply chain and logistics.

Along with a tuition scholarship, the students were invited to attend WithIt's professional conference in June. Conference participation afforded students the opportunity to meet and network with women from the industry while building upon skills they can use in their pursuit of a career within the industry.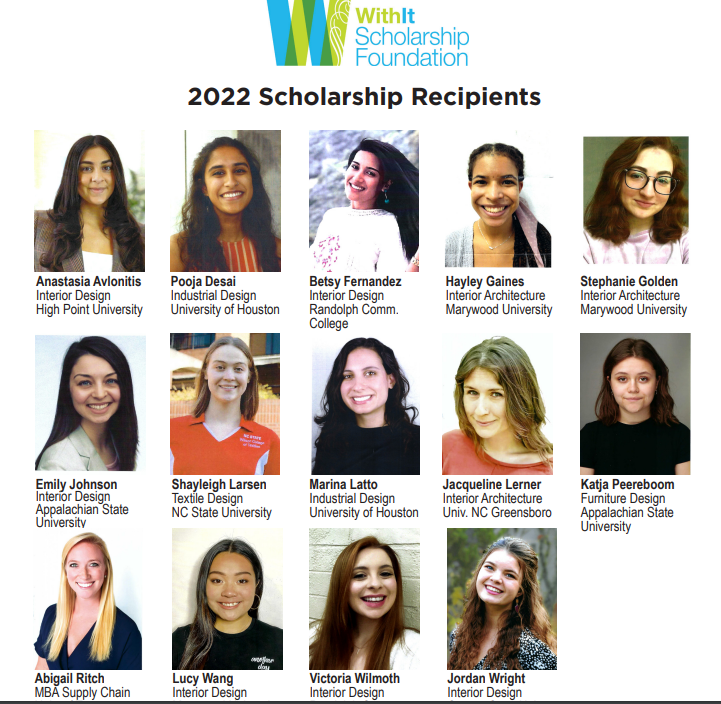 Hayley Gaines, an Interior Architecture student at Marywood University, received the Jena and Stephen Hall Scholarship, a scholarship given to students who show promise for innovation in business.
Gaines said her goal is to create spaces that foster diversity and inclusivity, something that's quite important to her as a biracial person.
"I want to create environments that cultivate empathy and community as well as promote self-discovery and growth. I think this can be made possible by crafting spaces that … that embody human emotions and experiences," Gaines said. "This representation is discussed with regards to television, movies, and other forms of media, but … If we can't find ourselves in our interior spaces, how are we supposed to find ourselves outside of them?"

The judges were hard-pressed to choose scholarship recipients and said that every application presented them with an ideal candidate.

"The scholarship committee wants each applicant to know that their effort was seen and appreciated. It was a pleasure to read through diverse, quality applications from such worthy students. The future of the furniture industry is full of knowledgeable, hardworking and innovative professionals," commented Paris Gholston, WithIt's vice president of Scholarship and Customer Relations Coordinator for the Mattress Recycling Council.

The 2022 recipients are Anastasia Avlonitis, Interior Design, High Point University; Pooja Desai, Industrial Design, University of Houston; Betsy Fernandez, Interior Design, Randolph Community College; Hayley Gaines, Interior Architecture, Marywood University; Stephanie Golden, Interior Architecture, Marywood University; Emily Johnson, Interior Design, Appalachian State University; Shayleigh Larsen, Textile Design, NC State University; Marina Latto, Industrial Design, University of Houston; Jacqueline Lerner, Interior Architecture, the University of North Carolina at Greensboro; Katja Peereboom, Furniture Design, Appalachian State University; Abigail Ritch, MBA Supply Chain, University of Tennessee; Lucy Wang, Interior Design, Marywood University; Victoria Wilmoth, Interior Design, Randolph Community College; and Jordan Wright, Interior Design, Oregon State University.
The students received awards in varying amounts.

To date, WithIt's foundation has awarded over $217,500 in tuition scholarships to qualified young women and men in universities across the U.S. who are pursuing majors that impact the home and furnishings industries. Additionally, 98% of all WithIt scholarship awardees are in the home furnishings industry.
This year's donation of $40,000 from the Heritage Home Group's Charitable Trust was used to fund the tuition scholarships and conference attendance.

For more information about the scholarship selection process and scholarship eligibility, visit https://www.withit.org/ScholarshipApplication.asp.