Case goods producer invests in its operations to give buyers a reason to keep coming back
JAMAY, Jalisco – Like other Mexican furniture manufacturers, case goods producer Meximuebles found itself in the enviable, yet challenging position of record-setting growth during the pandemic, particularly as U.S. retailers sought sourcing options closer to home.
As supply chain challenges interrupted the flow of goods from Asia, the company said its business in 2021 doubled, requiring it to invest in new facilities, equipment and staff to meet the demand.
While other Mexico factories may have scoffed at this opportunity for fear it was only temporary or fleeting, Meximuebles doubled down to make sure its two production facilities in Jamay and two warehouses in nearby Ocotlan were fully staffed and ready to serve customers in the U.S. now and in the future.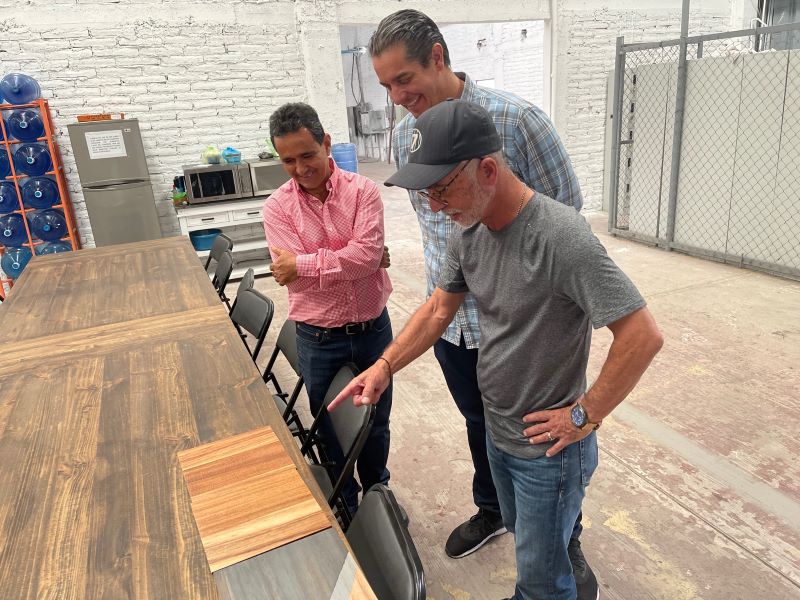 Home News Now visited the company's estimated 200,000 of manufacturing and distribution facilities in late June to get a firsthand look at a producer whose goods have been flowing into the U.S. nearly non-stop during the pandemic.
In addition to manufacturing, finishing and warehouse operations, the company also recently has invested in a new mill to cut timber into boards which will later be used in its finished product. The investment, along with a new metal processing facility for metal drawer and door pulls and other components, further enhances the vertical nature of the operation, allowing it to produce more materials in house that are to the quality standards of the company and its customers.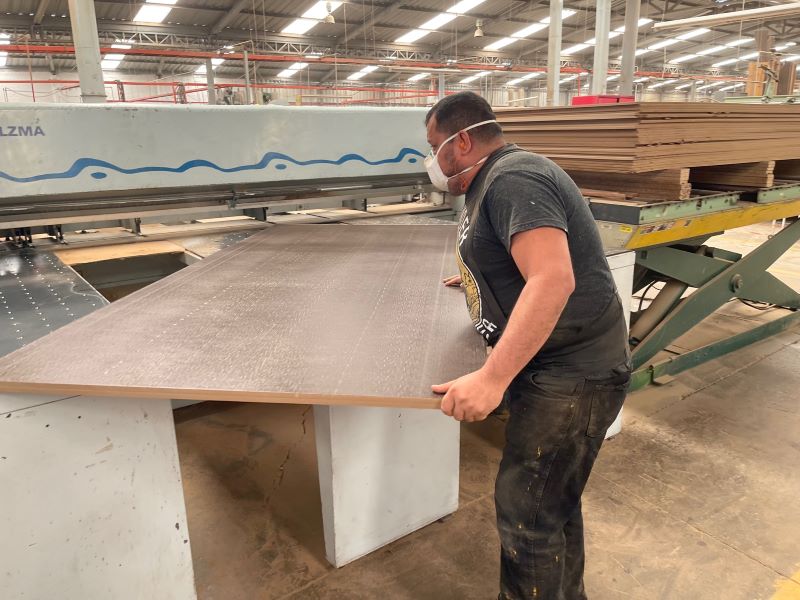 Meximuebles was founded in 1986 by Francisco Estrada, who remains the company's CEO and owner. It initially started producing cribs and other nursery furniture but soon expanded to case goods including master bedroom, the following year.
Having mainly served the Mexico market early on, it began exporting to the U.S. in 2003. Eventually, it focused exclusively on exports, with the U.S. being its main market, although it is looking to expand to Europe as well.
The company's two factories, which are within a few miles of each other in Jamay, produce bedroom, dining room, occasional, entertainment and office furniture and some accents, mostly with pine solids and veneers. Four-piece bedrooms are targeted to retail around $999, while five piece dining sets featuring a table and four chairs, are targeted to retail around $1,599.
While business has slowed starting in May — as it has for many furniture manufacturers and suppliers around the globe — the company is producing as much as 50 truckloads of finished product each month, which is just over 70% of its overall capacity of roughly 70 truckloads a month.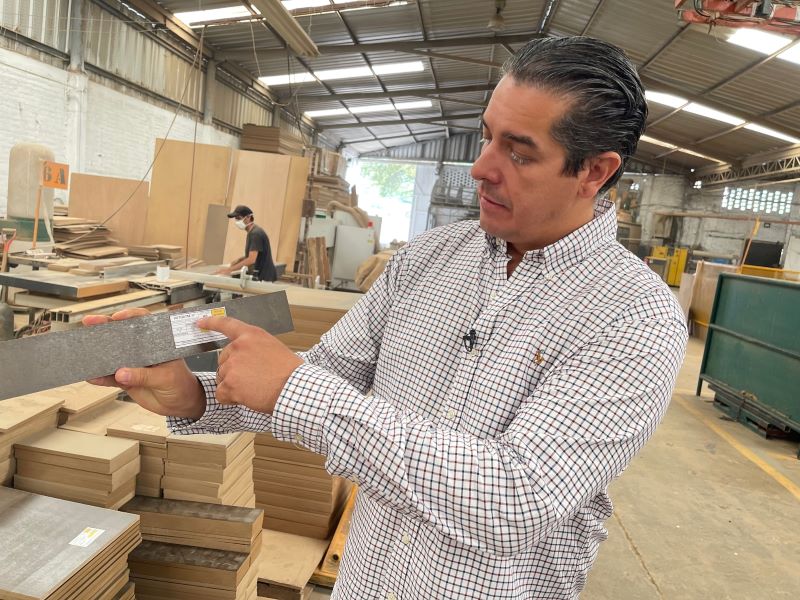 One of the big advantages Meximuebles has is the ability to ship in 30 days from the time of order, notes Edson Martinez, who handles commercial sales for the company. This, he said, is back to more normal levels compared to the 90-100 days last year when demand and order backlogs had reached historic levels.
"We work hard every day with our production to push the orders for different customers," he said, noting the 30 days is an average. "Sometimes it is possible to ship before 30 days and sometimes it is a little longer."
Sergio Zorio, a long-time friend and consultant to the company who, along with providing marketing and sales support, helps develop product for major accounts in the U.S., said speed to market is a primary reason many customers have kept coming back. He also noted that record-setting numbers of orders kept the company extremely busy during the pandemic.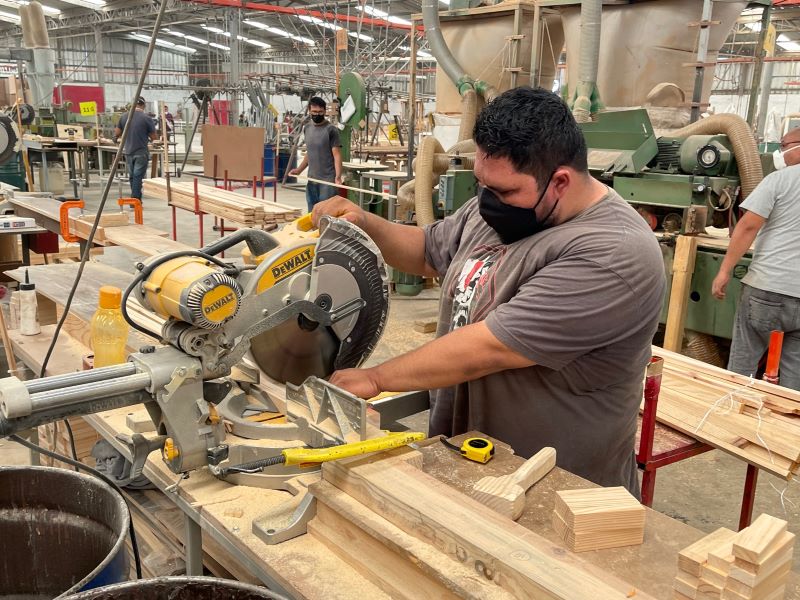 "To me the biggest challenge has been to keep up with the demand because customers want everything and want to know how fast you can ship it," Zorio told Home News Now during the visit.
He also noted that many customers don't even ask about price, as they are confident that the company will give them the best price possible.
"They know that," Zorio said of customer expectations. "We have raised prices a couple of times, but they were not complaining. They know everyone has been doing it, so they don't ask the price."
Demand has been so strong — at least up until recently — that the company has had a steady flow of orders all the way to early July — that were placed at the end of last year.
Thus, while business may have slowed some, the company said demand is still strong, and that it remains committed to the U.S. market for the long term.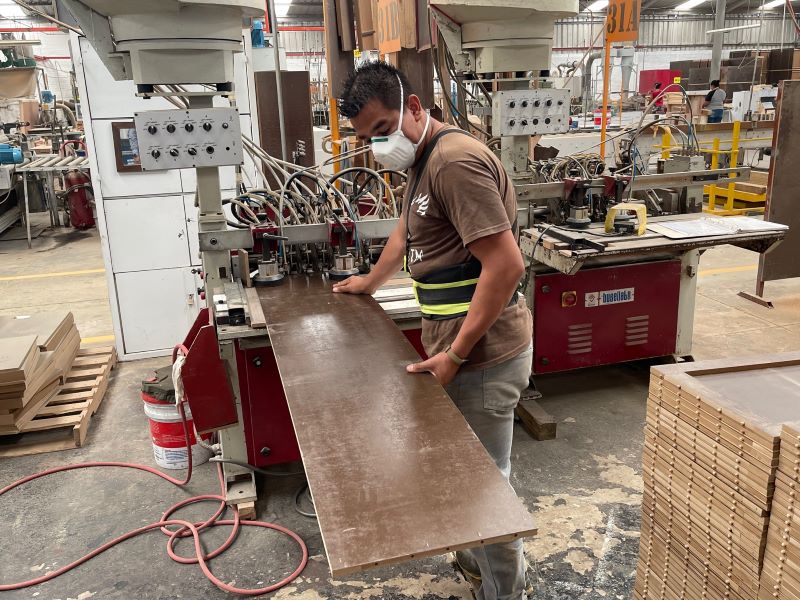 Thus, it continues to study the trends in the market in any number of ways, from attending shows, to communicating with sales reps in the field about what customers — namely consumers — are looking for. The company said it also studies trends in finish, and develops new finishes of up to 12 steps roughly every 90 days.
In fact, officials note, the pandemic brought customers and the company even closer together, Martinez noted.
"Because of Covid-19 not allowing travel during this time, the communication was more direct and closer between us and our customers," he noted of the many video conference calls that kept people in touch on a more regular basis.
And with Zorio as a primary link to major retailers in the U.S. ranging from City Furniture and Nebraska Furniture Mart to American Furniture Warehouse and Home Goods, the company had a known and trusted source in the U.S. market to help keep the lines of communications open.
"We have different ways to know what is trending, and we are working with companies like Sherwin-Williams and they help us know what the trends are," Martinez said. "We are always trying to improve."
The company also said it has a logistical advantage in the marketplace not only shipping goods in the 30-day window, but also having them in stock for customers needing to pull from its inventory.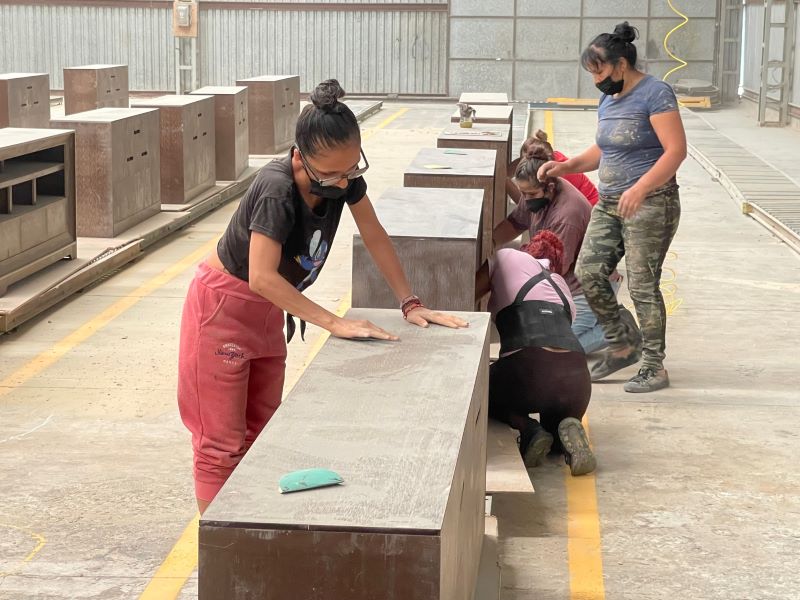 For example, in addition to its two warehouses in nearby Ocotlan, Mexico, the company also has warehouses in the U.S. including a facility in Dalton, Georgia that it opened in June 2020 and a more recently opened facility in the City of Commerce, California. It is also looking to open a facility in the Northeast in order to serve that part of the market, another growth area for the business.
Looking ahead, the company has its eye on many more years of success with the U.S. market, not only developing product for its customers, but also developing relationships by spending more time with them in the U.S. — now that many pandemic related restrictions have been lifted —to hosting them at its expansive family retreat on Lake Chapala — the largest freshwater lake in Mexico. There it is building new guest cabins and an open entertainment area for cookouts and product showings — all with beautiful views of the expansive lake.
"We have great products for manufacturers to put into their stores," Martinez said, noting that the company looks forward to inviting many more guests to its factory — and to its lakefront retreat in the near future. "And I think that the most important thing is that while we are a Mexican company, our mind is to the American market, and this is very important to us and to our customers, both our current customers and our new customers. We want to have a long-term partnership and many years of business together."
More photos from Home News Now's visit to Meximuebles can be seen below.