Saltwater Porch + Patio started out as a retail version of a side hustle and blew up almost overnight.
The idea, according to company President Bob Blanchard, was to start a small coastal-inspired boutique on St. Simons Island, Georgia in 2019. Inside, the store sold home décor, ladies clothing, gifts and accessories. Outside, the place had a side yard that would be perfect for outdoor furniture, so the owners set out some pieces of Polywood.
"When the pandemic hit and everyone was staying at home, our business exploded," says Blanchard. "It was challenging, but we were able to pick up a few more HPDE furniture lines and we haven't looked back."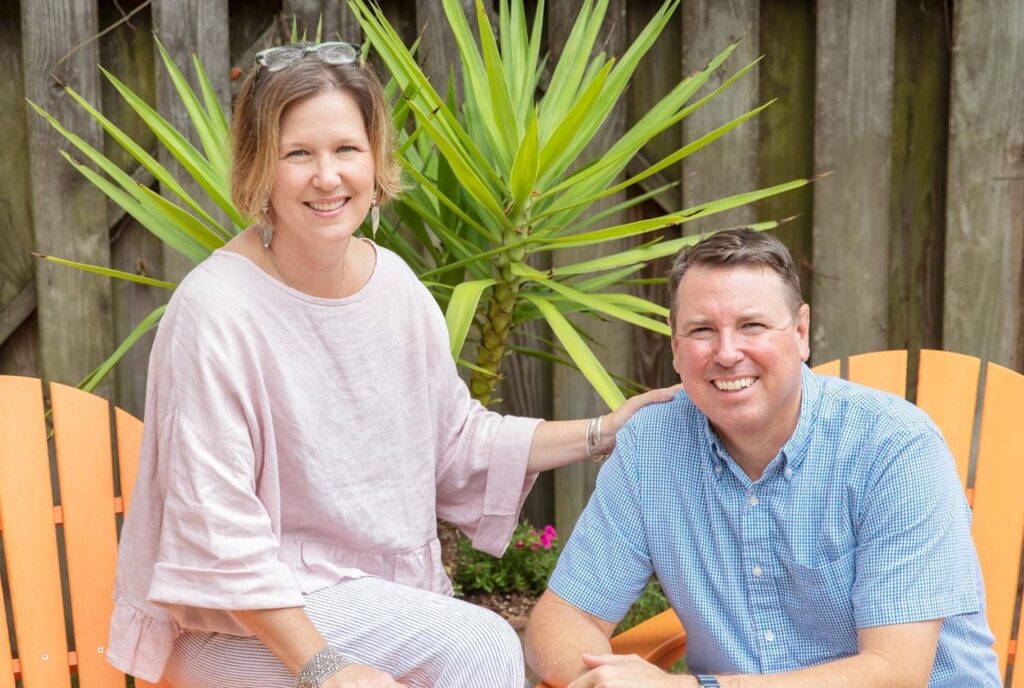 The business was begun by Bob, alongside his wife, Sissy Blanchard, who is chief financial officer. Bob has a background in golf, and Sissy worked in the gift industry. The two owned a wine bar in Sonoma, California for a decade before selling it and moving back east for their next adventure.
That came with the start of Saltwater in 2019 and then, about three years later, in January 2022, opportunity knocked again: The Patio Store in Kingsland, Georgia was up for sale.
The retiring owner had been in business for 15 years and had developed both a loyal following and a solid contract business, so the Blanchards took the plunge, growing the business to two retail locations and a warehouse. The additions mean that the Blanchards now have a strategic location to receive furniture and make deliveries to customers from south of Jacksonville, Florida to Bluffton, South Carolina.
Growing so quickly from the beginning came with its own set of challenges, including the need to add employees with specific skills. The store hired Becky Derrick as vice president of sales and marketing. She wears several hats — running a store, managing the contract division and overseeing social media marketing.
"Our inventory system, or lack thereof, became immediately obvious," Sissy says. "We decided to have our main website rebuilt and will finally have just one inventory to manage that all the locations can pull from. And finding and training the right staff continues to be a challenge. We are lucky that we have a resource of newly retired people in our area. They don't want full-time work and are quite adept at customer service because of the life experience they bring. "
Old-School Marketing
For marketing, the Blanchards opted to bring in the experts in today's methods, as well as to use has what worked in the past.
"Our original store opened just over three years ago and we immediately implemented print ads and organic social media marketing," Bob says. "As we grew, we added paid digital advertising with an agency and haven't looked back. We maintain a steady digital ad budget and work with our agency to adjust where the ad spend goes each month based on changes in the market and changes to the algorithms on Facebook and Instagram."
For The Patio Store, the Blanchards are decidedly and intentionally old school. The previous owner used print advertising in three local glossy magazines. The Blanchards are using that same approach for now as they get to know the store and the customer base. Later, they will add digital marketing to the mix once they have organically grown the social media presence for that location.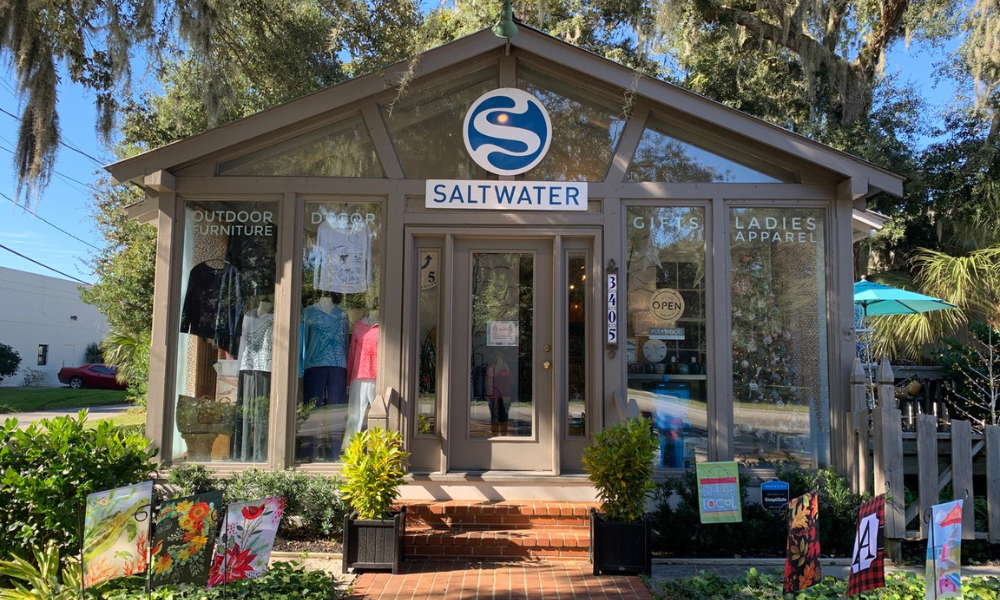 "We want to make sure we are capturing all the repeat business that comes along with being in business for 15 years," Sissy explains. "We notice that while many businesses have social media presence, they don't keep up with posting and interacting with customers online regularly. The more we interact online and post new content, the more engagement we see with our customer base. It's very hard to quantify how much revenue online marketing brings, but if you don't do it, you won't reach the customers that only spend time shopping online. The more they see us online, the more business we get from them."
And the Blanchards also go for the oldest in old-school marketing. Each sale of furniture, from tens of dollars to thousands of dollars, gets a handwritten thank-you note from Sissy's mother, which is one of the ways they set themselves apart from other retailers.
"It's very important to us that everyone who comes through the doors to our businesses is greeted warmly," Bob says. "Customer service and hospitality is at the heart of our business. We work hard to make sure our employees understand this and execute!"
Since it opened, the store offers free space planning and design, and free assembly and delivery within 100 miles, which makes it easier for its clientele, most of whom are older, to say yes to a sale. Because of its warehouse, it keeps a fair amount of inventory on hand for immediate delivery.
Full-line Entry
The Blanchards do not believe that the increase in full-line retailers going into outdoor furniture will have any effect on their business – and they see it as actually being positive to stores like theirs.
"We don't really concern ourselves with businesses that are trying to be everything to everyone," Sissy says. "We have curated a collection of products we believe in and we've carved out our niche. We know everyone that walks in isn't going to buy from us, but the ones that do get the best service around.
"The more they spread themselves out, the better it is for us. We make every effort to carry lines that are not sold everywhere. We build relationships with our vendors and do the same with our customers. Our customer service experience is far superior than that of a big box store."
The store says that it doesn't try to compete with online retailers. Instead, it sells on its own online store, which it says works out to be icing on the cake and attracts a specific kind of customer. Otherwise, it works alongside online retail.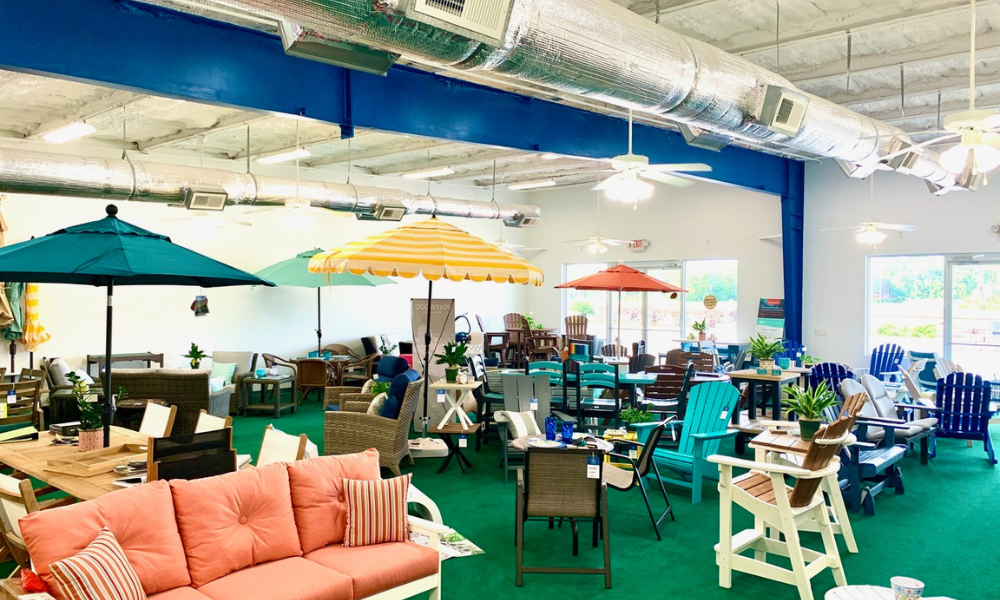 "Our biggest product line, Polywood, sells direct online," Bob says. "But it shows up to the customer's house knocked down. They have to build it and get rid of all the cardboard. They'll only do that one time! We have lots of customers that found Polywood and bought direct, then came to us for our service the next time they needed product. What we love about Polywood selling direct is that it allows them to offer us free shipping — it's a win-win for everyone!"
Accordingly, Bob Blanchard says his best advice to a struggling casual retailer is to build its own online store, even if it features a small inventory.
"Find a vendor that will drop ship for you — it makes it easier to offer a discount if you don't have to touch it. It's more affordable than ever to get up and running with an online store and not as time-consuming as it once was. Just be ready with your marketing plan to make sure you are driving traffic online to your store."
What's next?
"With the purchase of The Patio Store and a new website on the horizon, our plates are full," Sissy says. "But check back with us later in the year… we're sure to have something up our sleeve!"