HIGH POINT — As April Market heads to its conclusion, we're sharing just a few scenes that helped separate the spring event from recent, pandemic-stifled furniture markets.
The first thing we noticed were people.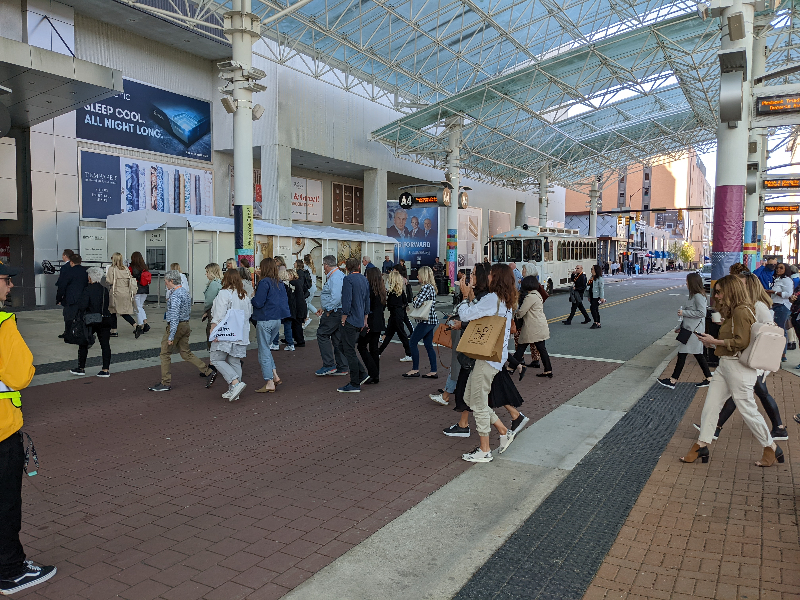 Actual crowds, maybe not quite up to pre-pandemic levels just yet, but they were a lot closer to normal. And they were everywhere — at the transportation depot, at the registration desks, at the parties.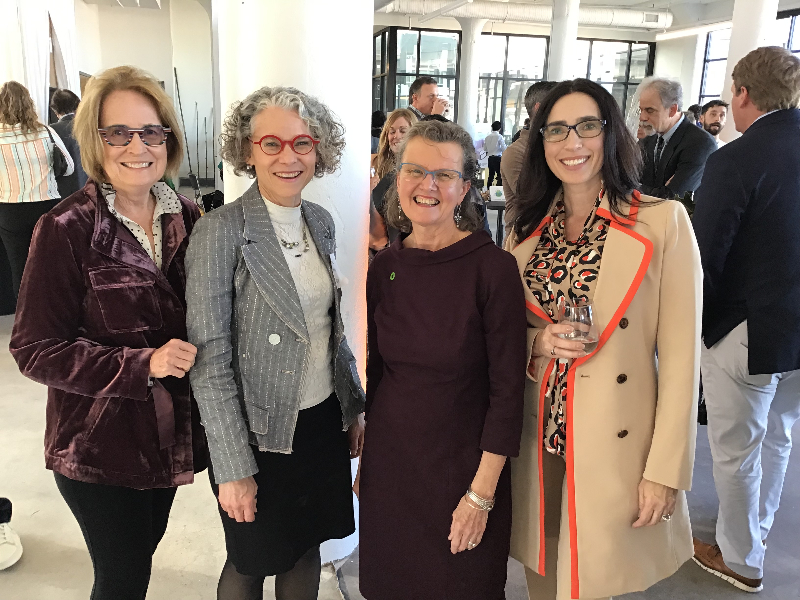 And there were more parties — more well-attended parties and social events — too. Here's Linda Sorrento, left, of Mindful Materials, Jennifer Wammack of BIFMA, and the Sustainable Furnishings Council's Susan Inglis and new Executive Director Scarlette Tapp at SFC's 15th Anniversary gala in Congdon Yards.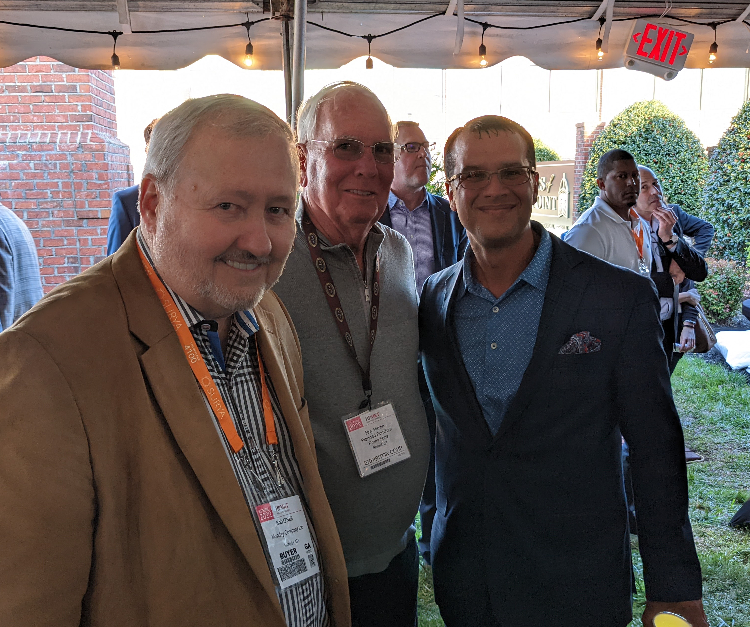 Planned Furniture Promotions hosted a party benefiting the City of Hope and honoring COH's Lifetime Achievement honoree Roy Hester. Shown here is Bob O'Neil of The Monday Co., left, with PFP's Hester and Mickey Justice.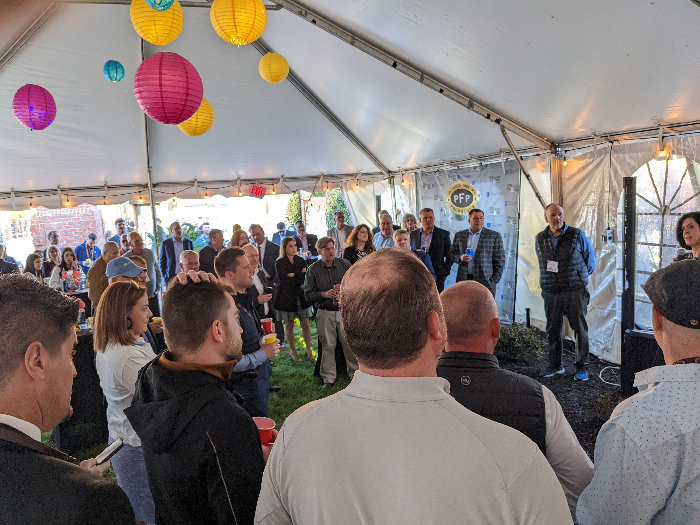 A crowd shot from the PFP event, where, among other things, Centers of High Point auctioned off two prime "VIP City of Hope" parking space permits.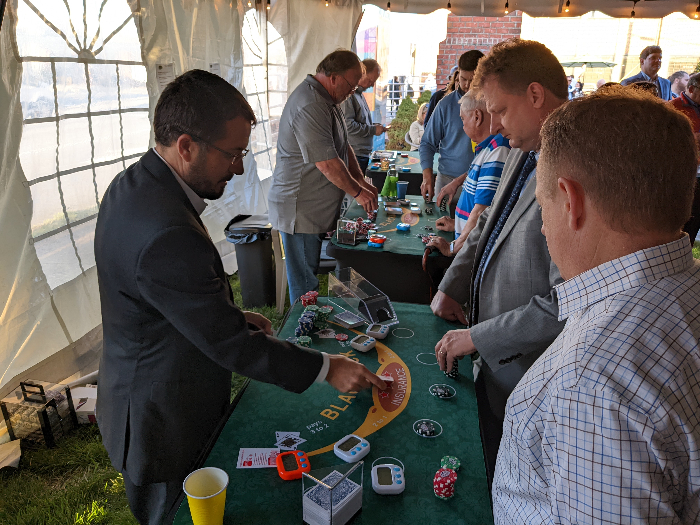 Still more money was raised for City of Hope at the blackjack tables.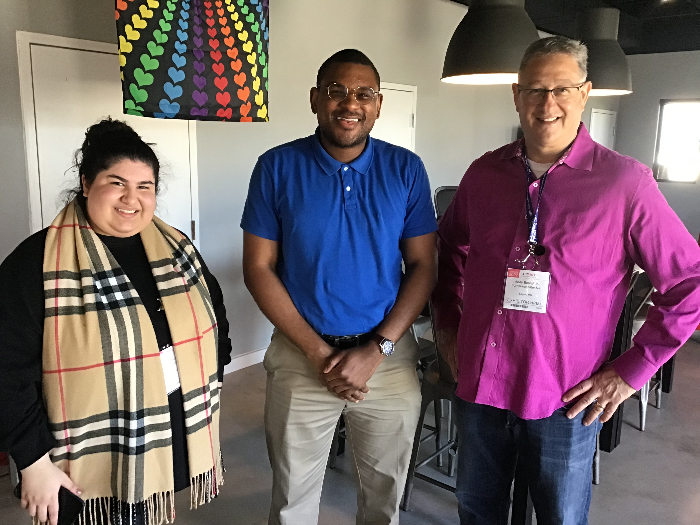 And here's Furniture Dealer.Net's Parisa Nourbakhsh, left with Ramonte Walthall, Schewels Home, Lynchburg, Va, and Furniture Dealer's Andy Bernstein at Furniture Dealer.Net's twice-a-year High Point event for members of Furniture Marketing Group and other guests.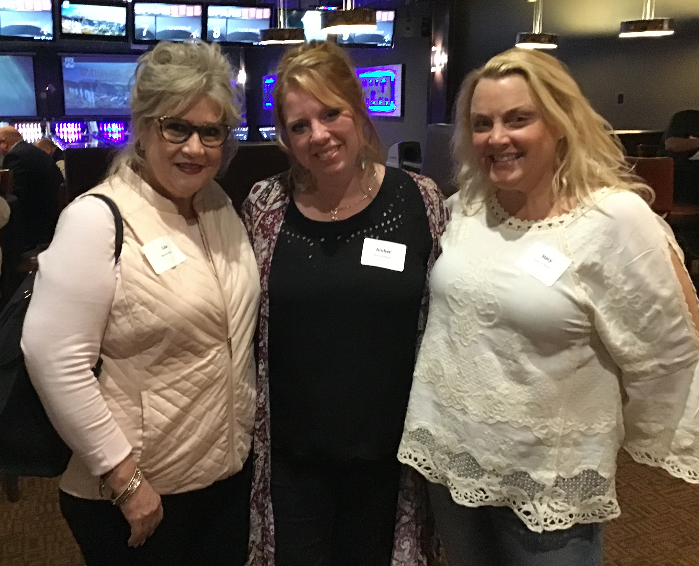 Buying group Furniture First drew a big crowd to its networking event at Spare Time Bowling in Greensboro, N.C., where, indeed, there seemed to be a lot more networking going on than bowling. Here's the team from Room To Room, Lisa Hawkins, left, Amber Beane and Stacy Weeks. The Tupelo, Miss., company is also one of this year's Home Furnishings Assn. Retailer of the Year honorees.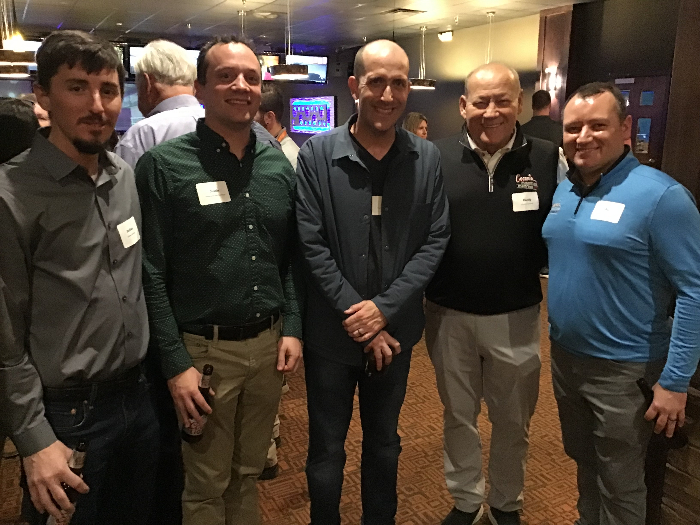 Also at the Furniture First event: Josh Dewey, left, Dewey Furniture, Vermilion, Ohio; Justin Mikos, Mikos & Matt Furniture, Fort Dodge, Iowa; Brian Morgan, The Furniture Mall/Couch Potatoes, Austin, Texas; and Randy Coconis and Bo Coconis, Coconis Furniture, Zanesville, Ohio.
Here are a few more scenes from around High Point Market: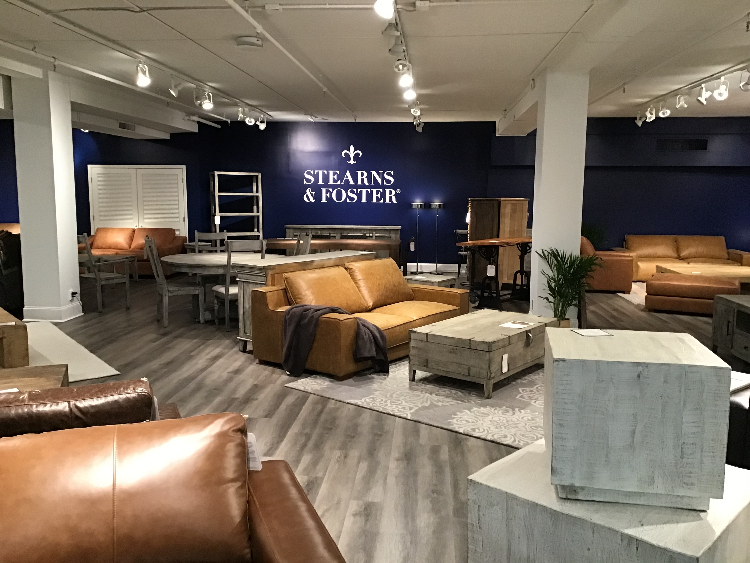 Primo International was tight-lipped to the press, but the Canada-based importer appears to have soft-launched a case goods and upholstery collaboration with Tempur Sealy International's Stearns & Foster brand. The collection was prominently displayed for all to see from Primo's 11th floor space in IHFC's Main wing.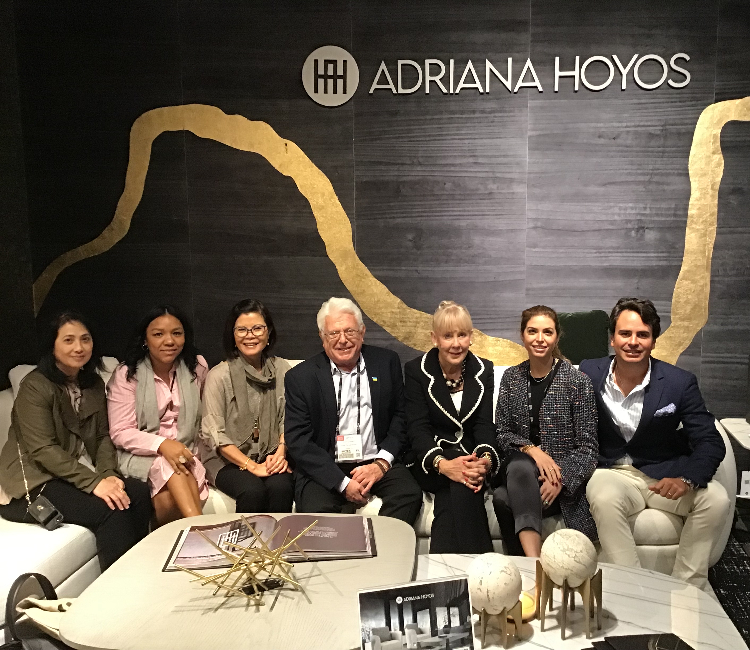 Gie Evasco, left, Angie Chang, Grace Akol, Clive Lubner and Kris Kolar, of Naples, Fla.-based Clive Daniel Home with Ana Viyella and Eduardo Perez Hoyos of Adriana Hoyos in Adriana Hoyos' Interhall space. Lubner said the brand has become the high-end retailer's No. 1 resource.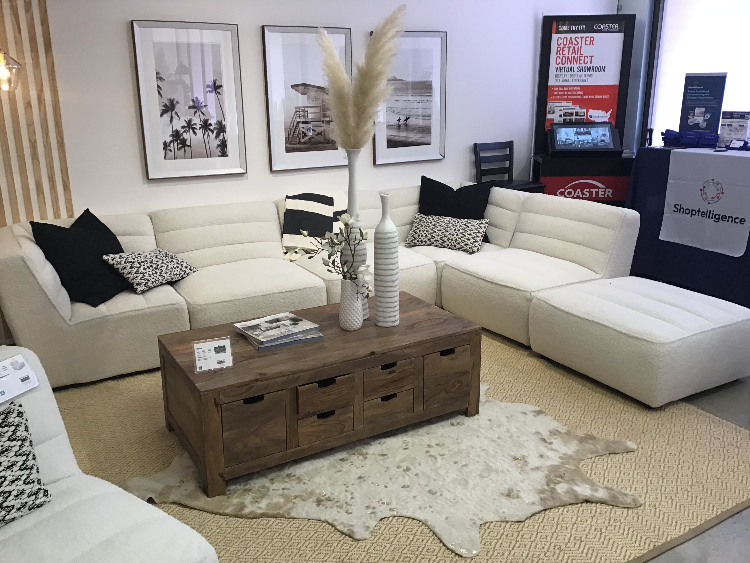 For the past two years, the big question on retailers' lips was, "What's in stock?" says Coaster Fine Furniture's Don Deeds. This time around, not so much. Instead, he said it was more about "What's new?" This modular Sunny collection sectional from Coaster fit the bill and was receiving a warm reception.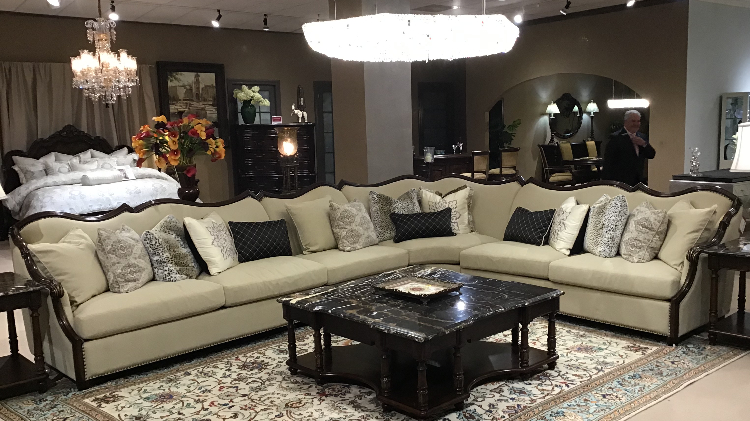 Meanwhile in the AICO showroom, the company's Old World traditional Chamberi collection, shown for the first time in High Point, was getting a lot of attention from buyers. Shown here is a four-piece modular sectional with carved exposed wood and in a boucle fabric retailing for $6,999 as shown.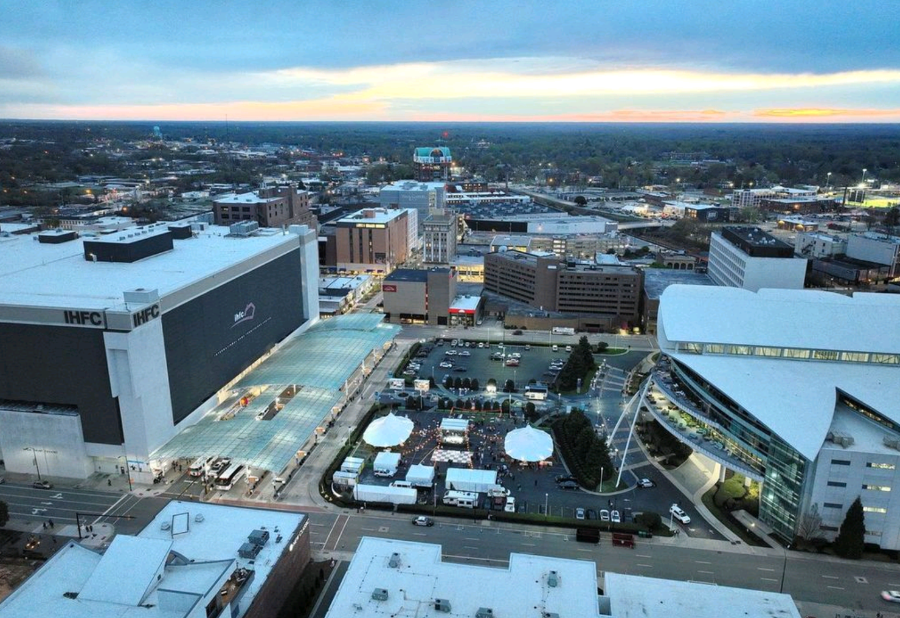 And finally, courtesy of Planned Furniture Promotions' Tom Liddell: A drone's eye view of High Point Market at dusk. You can see a lot more from the early evening flight posted on Liddell's Facebook page.