New product initiatives and innovations are tailored to overall comfort, health and well-being of consumers
LAS VEGAS – Bedding manufacturers are launching a diverse line of bedding products at the Jan. 23-27 Las Vegas Market that bring further innovation to the category and give retailers a compelling story for their floors in the coming months.
Ranging from new comfort and support features to antimicrobial properties that can help boost the immune system, the introductions speak to the wants and needs of consumers seeking to further enhance their well-being through sound, safe and healthy sleep.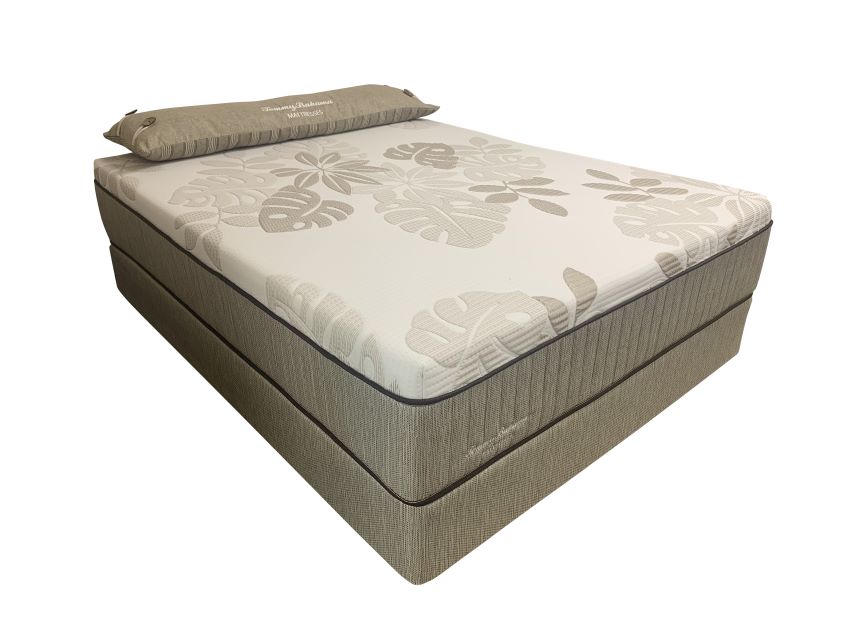 In addition, new and expanded licensing initiatives give a further boost to the category with names such as Venus Williams at GhostBed, the expanded Tommy Bahama collection at Therapedic International and the Ernest Hemingway line at Bedding Industries of America.
New antimicrobial and antibacterial components in bedding could be among the biggest areas of interest at market. While these agents don't profess to stop the Delta and Omicron Covid-19 variants in their tracks, their advertised benefits to the immune system could help keep users healthy.
For example, Magniflex is offering six updated collections that offer temperature regulating and anti-bacterial fabric. The collections include Classico, MagniCool, Dolce Vita, MagniStretch, Magnifico and Toscana, which also offer various levels of support for the entire body.
Retails across the lineup range from $1,599, to $3,999, giving dealers and consumers a broad mix of styles and price points.
Therapedic's new Immunity collection offers what the company describes as the highest copper content of any mattress made for consumers, featuring copper woven into the fabric covers and mattress foam. Copper is said to offer anti-bacterial, antimicrobial and anti-fungal properties, thereby helping reduce inflammation and increase circulation. Six new models retail from $999 to $2,499.
Southerland is showcasing several new models in its Evolution NXT assortment that feature luxury foams that include copper infused viscos and copper infused Talalay latex throughout the line. It also marks the first time it is launching a tufted bed program that the company said "not only enhances the aesthetic, but provides additional zoned support."
Features include a 1130 perimeter active edge five-zone support system, offering profiles ranging from 14.5 to 16 inches. The company also noted that the ticking includes thermo-balanced cooling properties for added comfort.
"The relaunch of the Evolution NXT Collection offers our retail partners the opportunity to expand their assortment with an exclusive brand that appeals to a luxury consumer," said Bryan Smith, president CEO of Southerland. "This is the first time we are offering a tufted program, which is recognized as a symbol of elegance and gives our retailer partners a springboard to introduce consumers to the new enhanced aesthetic. It's a luxurious look and feel for their discerning consumer."
Retails range from $1,999 to $3,999 in queen.
Southerland also is showing models in its American Sleep line, including hybrids and two-sided mattresses. It also is showing its Signature Hybrid and Thermobalance collections which feature copper infused latex, gel-infused memory foam and temperature regulating technologies that aim to improve sleep.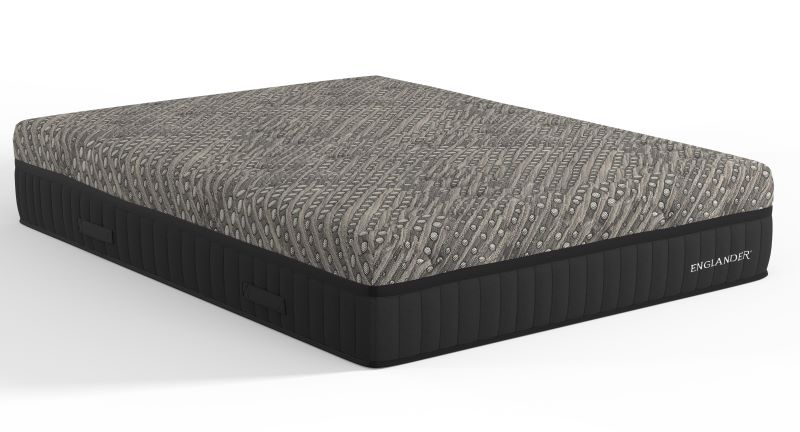 Englander is expanding its Supreme collection with three new latex hybrids that will round out the 19-model line, which the company described as its largest national launch. Features on the new models include cooling covers, natural copper infused latex, a fabric-wrapped coil support system and an edge-to-edge perimeter coil system.
The three new models retail from $1,899 to $2,999, with the step ups offering from one to three inches of 100% natural Talalay copper latex for elevated pressure relief and comfort that the company said also offers the anti-inflammatory properties of copper.
In addition, the company is unveiling improvements to its England Asset Manager, a portal for retailers that offers ready-to-use and customizable marketing materials.
"We're giving mattress retailers plenty of reasons to come to the Las Vegas Market," said Mark Kinsley, president and CEO told Home News Now. "Englander has 19 new national mattress models that are supported by videos, QR codes, and a dedicated website filled with marketing assets. Also, we've welcomed Lifeloom into our showroom to introduce retailers to their FDA-cleared 'frictionless' sheets and pillowcases and their incredible retail demonstration unit. Even if foot traffic is light at market, we expect to have meaningful conversations and reconnect with our valued partners. And yes, our team will probably be giving plenty of FaceTime tours."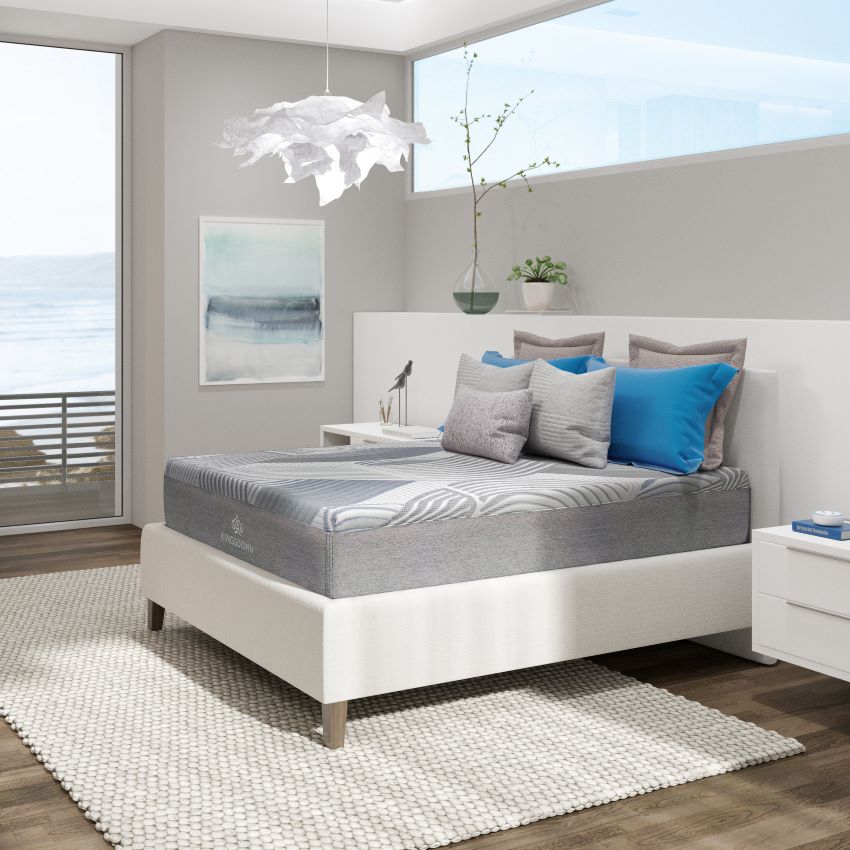 Other innovations on tap include Kingsdown's re-engineered Sleep Smart mattress, featuring a new 3×2 zone air chamber which offers three reinforced air chamber support zones on either side of the mattress which supports individual comfort preferences. A lumbar support zone can be controlled by each person for postural support for the lower back. The mattress also has a complete edge-to-edge sleep surface with high density foam on every side.
There is also a specialty foam layer with cooling gel that "conforms to the body while dispersing body heat and relieving pressure points" for added comfort and support. Also featuring a performance fabric cover that regulates temperature, it retails for $2,199 in queen.
The company also is launching its new Insignia collection with six models that feature a mix of more than 1,000 wrapped coils and gel-infused foam. Each model also includes the company's Full Body Surround edge, which has high-density foam on all sides for a "fully usable edge-to- edge sleep surface. The top tier models also feature a layer of Phase Change Material to help regulate temperature and provide a more comfortable night's sleep.
Diamond is offering its new customizable bedding bundle, that includes two memory foam cooling pillows, waterproof mattress protector and a sheet set. It comes in a box that can be customized with the retailer brand. A queen set retails at $245. A waterproof protector is also available separately for $48 retail in queen.
Diamond also is showing its new Ultra Cool mattress protector that features a cooling technology fabric with a whisper quiet waterproof backing. Retailing at $108 in queen, the protector also comes with a four-way stretch skirt that fits any mattress type.
Licensing also remains a key ingredient of bedding this market as seen with the new Venus Williams collection at GhostBed. The line includes six models featuring a heat-activated technology called the Venus FIT (far infrared technology) layer that absorbs body temperature to help increase blood flow and decrease blood pressure, allowing more oxygen to flow through the body.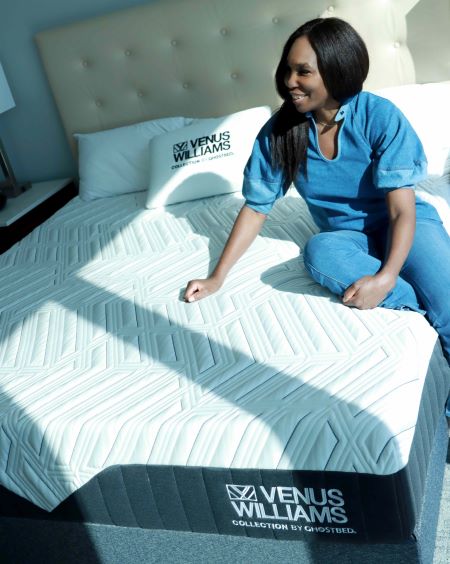 The 12-inch Legend direct-to-consumer model offers the Venus FIT layer combined with a soy-based biofoam layer; a hybrid with individually wrapped springs and as an all-foam model featuring customized support. Each model also features a Full Body Surround Edge Support System that uses high density foam on all sides of the mattress, and top tier models offer a layer of Phase Change Material that provides "a dynamic response to temperature."
There are four models in the wholesale lineup, which are available in a 13-inch and a 14-inch profile, in either a Hybrid or all-foam design. Each of these also includes the Venus FIT layer and a specialized Ghost transition layer that provides what the company describes as "an ideal balance of pressure relief and support." Retailing from $1,799 to $2,999 for a queen, each mattress also has a sustainable ultra-cooling cover that consists of 25% recycled plastic bottles.
The expanded Tommy Bahama line at Therapedic includes three new models featuring Glacier Touch technology that provides cooler sleep comfort, and Sanitize, which offers antimicrobial protection. In addition, an exclusive iFlex hybrid quilt incorporates more than 2,000 micro coils to the cover, "providing comfort, durability and cooling features."
In addition, the mattresses have Repreve performance fibers produced from recycled water bottles, giving the line an eco-friendly story as well.
Company President and CEO Gerry Borreggine told Home News Now that he expects the market to be lightly attended. That said, the company planned an aggressive product launch well ahead of the market that he believes will resonate with those who do attend.
"We have to do the best we can with what we have, and that's what we are going to do here," he told Home News Now, adding that the company also will have a video crew on hand to film products in detail and show that footage to those who can't attend. It plans to release this video immediately after market.
"It's going to be the next best thing to being there," Borreggine said, noting that the company did a similar video a year ago. "It was very successful and we ware going to do it a little better this time. We think we know how to make it more effective. And any retailer who can't go will feel like they have been to our showroom."
Some resources are moving to new spaces at market that expand their footprint. They include Spring Air International, which is moving to a space in A-701. The company said the 9,000-square-foot space is 25% larger than its previous space, thus allowing it to show a broader representation of the line while also benefiting from a higher traffic.
It also will have dedicated areas for each of the company's brands, showcasing its full line of mattresses, toppers and accessories. This includes its newest mattress brands – the revamped seven-model Chattam & Wells line; the Back Supporter line; Reserve by Spring Air and the Hope collection.
"Spring Air is excited to be in our new Las Vegas showroom and we are optimistic that retailers will be hungry for new products," Nick Bates, president, told Home News Now.
Corsicana will be showing in a new 21,000-square-foot space in B-1280 that shows its "House of Brands" in one showroom. This is the first time it will be doing so after its purchase of Symbol Mattress last May. These brands now include American Bedding, J. Beckon, NightsBridge, RENUE, SleepFresh, Sleep Inc., Symbol Mattress and Tommie Copper.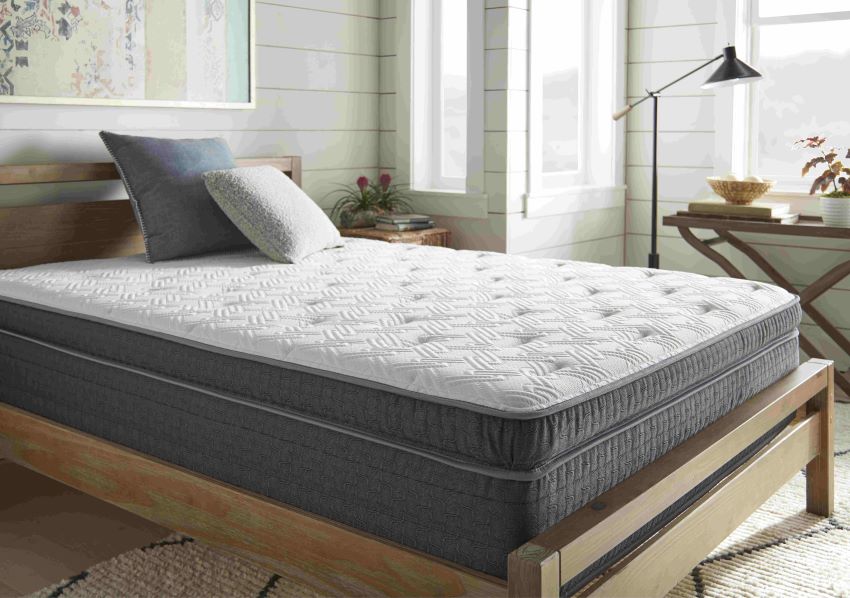 "Along with celebrating our 50th Anniversary, the opening of our new showroom marks a major milestone for Corsicana as we bring our brands and team members under one roof," said Mike Thompson, president and CEO of Corsicana, in a statement. "In order to make a bold statement, we knew we needed to create an innovative way to showcase our mattresses, educate our customers and convey our brand's new positioning. The showroom's new layout and aesthetic represents the direction that the company and the brands are going."
"We are growing our 'House of Brands' strategy to meet consumer needs, and this larger showroom will give us the opportunity to do so," said Eric Jent, executive vice president of sales.
The company also is showing 11 new luxury beds that are being added to its American Bedding line. The domestically made assortment includes models featuring 12-14-inch profiles, with flat or roll pack delivery options. They also feature all-natural graphite infused foam for pressure relief and comfort as well as temperature regulating properties to help users sleep cooler.
Resources say that despite concerns about attendance due to the Omicron variant of Covid 19, they are hoping for the best at market.
"While there are concerns about travel and market traffic, our business growth continues as we seize strategic opportunities to show our products, communicate the Shifman brand and connect with quality retail partners," Bill Hammer, president of Shifman Mattress Company, told Home News Now. "Our tremendous growth has been a result of consistently and effectively communicating our brand benefits to independent and regional retailers across the U.S. and beyond. The Shifman brand has the ability to distinguish a retailer from competitors in their market and raise their average unit sale with a premium product with true benefits to support a premium price that makes sense to the consumer. The Shifman team is looking forward to conveying this message to retailers at market while taking precautions for the health and safety of all."