Company seeks to offer segment-dedicated manufacturing space in its Indiana plant along with entertainment, occasional furniture
GOSHEN, Ind. — Solid wood case goods manufacturer Foundry 39 Furnishings is expanding its assortment with a new home office lineup that aims to fulfill some of the ongoing demand in the category.
Founded in 2017, Foundry 39 already produces a line of home entertainment and occasional tables in its 10,000-square-foot plant here.
It recently added about eight collections that feature desks, bookcases, file cabinets and credenzas that are available in eight finishes and are made with solid maple, hickory, cherry and walnut. The desks also have a mix of wood and metal legs, similar to the mixed media story offered in the home entertainment and occasional categories.
For retailers shopping the upper middle to high end solid wood category, this could be another domestic resource to consider as the company plans to ship in roughly 30 days from the time of order.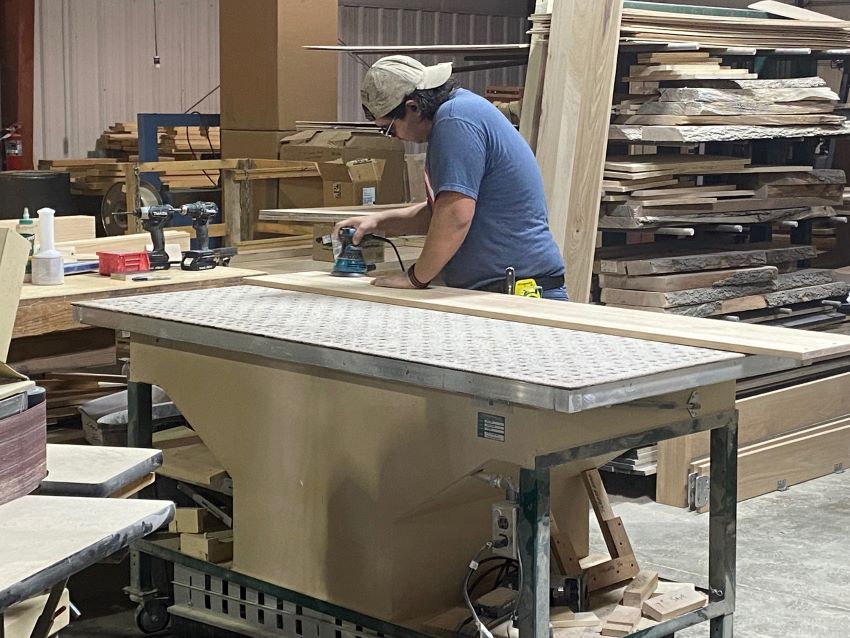 Desks and companion case pieces feature clean-lined standard contemporary forms that that are designed to run through the plant efficiently and quickly, said Chad Gascho, founder of Foundry 39 Furnishings. Gascho also is the founder of sister company Conrad Grebel, which specializes in solid wood bedroom and dining room furniture.
"The desk is a basic model that is 54 by 28 inches wide," Gascho said of the standard sizes. "That is part of the speed. Nobody cares if it is 30 by 60. And because of that we can get eight different models using the same components. The woodshop is building the same box over and over and it can be used for multiple things."
Retails range from $1,299 for a writing desk to $2,499 for an executive desk footprint with drawers. There are also l-shaped corner desk units that retail from $1,799 to $2,999. Bookcase units with shelf and door storage retail at $1,999, and a three-drawer file cabinet retails at $1,499.
The office category is being added to the company's existing lineup of 50 SKUs of home entertainment, which the company recently enhanced with decorative leg and laser-cut door options. There also are about a dozen occasional tables including cocktails, end tables and sofa tables in the line.
Like the home entertainment and occasional categories, the office segment is meant to ship in about 30 days from the time of order. The company plans to take orders for the new home office pieces in the coming weeks and ship them sometime after the first of the year.
But to do so the company will need to shift some production of its bedroom and dining room furniture now being produced in the same plant for Conrad Grebel. The goal is to use outside area contractors for these products to make room for the production of the home entertainment, home office and occasional products in Foundry 39.
"If we get more home office and TV stands on floors, the sooner we can make the shift internally," Gascho said, noting that the company does not offer those categories in Conrad Grebel. "We knew those are hot categories with that 45-and-under generation, but also due to the demand for home office with the pandemic. Those are two categories we can compete in well."
He added that another benefit is a sustainability story the line offers with a non-toxic, and non-volatile organic compound (VOC) and plant-based finish that is produced in Europe. Gascho said these finishes, which are marketed under the Foundry-Guard label, are also more durable and scratch resistant than typical conversion varnishes offered in the wood category as they have been traditionally used in wood flooring.