Four new models offer dealers a branded product they can mix on their floor with a range of other Christina products such as chairs, bed benches and side tables
HIGH POINT – Case goods and upholstery resource Spectra Home Furniture is launching several new fully upholstered beds this market under its Christina @ HOME licensed line.
While the company has offered these types of beds in the past, this new lineup is meant to reinvigorate the category, offering a style statement that mixes with other wood and upholstered pieces in a licensed collection developed in partnership with HGTV personality Christina Haack.
Ranging from side tables to upholstered footstools and bed benches, these and other items in the Christina line can partner with any of the four new beds, allowing designers and consumers alike to create a bedroom that reflects their personal tastes.
"Spectra has tried beds in the past with moderate success," said Jim Telleysh, senior vice president, adding that the company also has produced upholstered beds for more than 10 years for major big box retailers.
He added that the beds also represent a new approach for Spectra in that they are now the latest addition to the licensed Christina @ Home living room line of upholstery and wood furniture.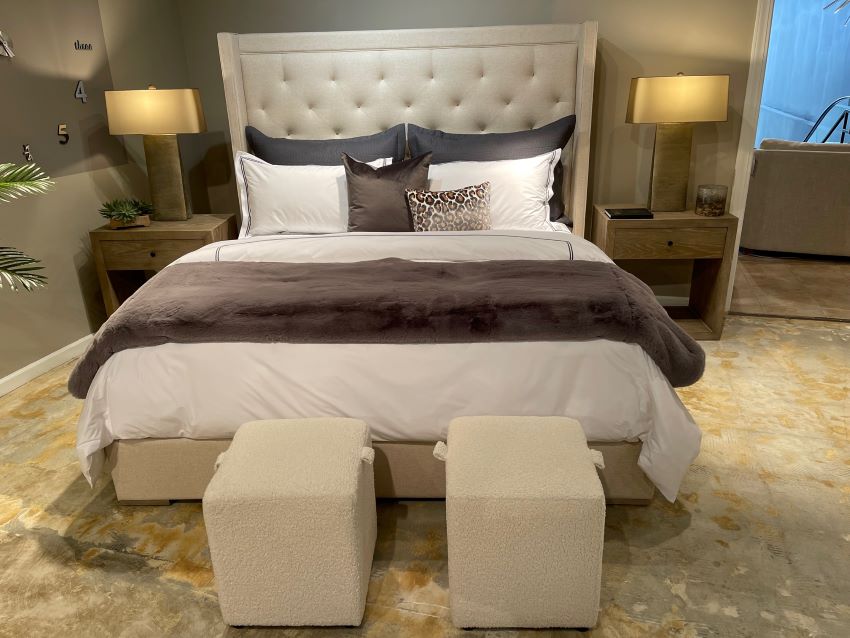 "This was a natural progression for Christina @ HOME," Telleysh said of the bed category. "This was the first time Spectra could do it successfully with a branded product through Christina @ Home."
He said the looks also complement the rest of the line with a product that provides "our customers a premium product with more fashion, but with fashion that is usable in the home due to the performance fabrics."
The beds are made at the company's plant in China, retailing from $2,299 to $2,499. They are available in king or queen sizes and in one fabric each from the company's warehouse in High Point. Three of the four come in performance fabrics.
The beds also are available in custom fabrics. However, Telleysh noted that these custom options have 20-week lead times out of China.
The new beds are on order and expected to arrive in the High Point warehouse by March 2022.
At market, they can be seen along with new domestic upholstery pieces being introduced at the Spectra Home showroom in space 213 of the North Court of 200 N. Hamilton St.