Addition of 40,000 square feet of production area brings facility to 130,000 square feet.
AVONDALE, Ariz. – Mattress manufacturer King Koil said it has expanded its plant here by 40,000 square feet, a nearly 50% increase that the company said brings the size of the facility to about 130,000 square feet.
The company said that the expansion will add a dedicated production area for its Smartlife collection. It also plans to add another 20 workers, bringing the total to 90.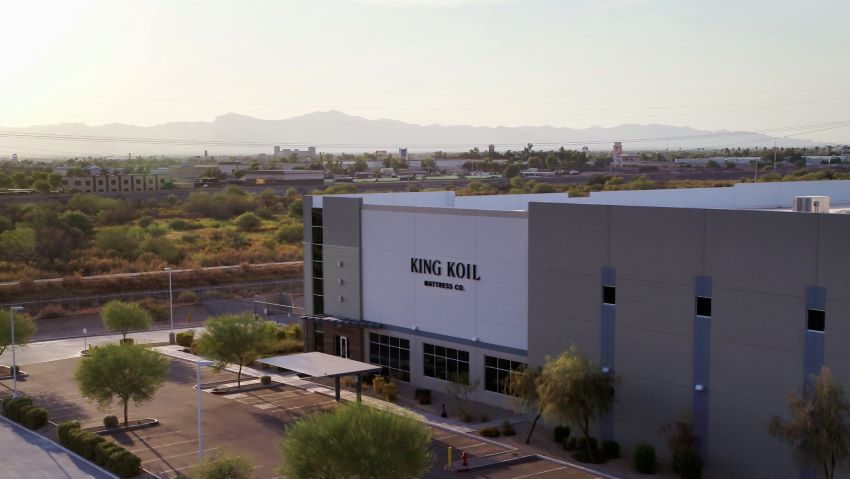 "Our retailers are experiencing a surge in demand from consumers who have more disposable income to spend on upgrading their homes and who are also placing more emphasis on innovation and luxury, two key areas of the market where we have focused our efforts the past few years," said David Binke, CEO. "This strategy has proven successful as we continue to see this trend with high-end consumers who are focused on improving their overall health and sleep performance rather than focusing on the lower-end products that are saturating the market today."
Binke added that the success of the Smartlife sleep system is an example of the shift in the marketplace.
"As we continue to place Smartlife as well as our other very popular product lines with our retail partners across the country and consumer demand continues to rise, this expansion allows us to become an even more important – and reliable – partner for our retail customers," he added.
First opened in early 2018, the Avondale plant currently services retailers in Arizona, Alaska, California, Colorado, Hawaii, Idaho, Montana, Nevada, Oregon, Utah, Washington, Wyoming, Minnesota, Illinois, Kansas, Nebraska, Texas, Arkansas, New Mexico, Oklahoma, Iowa, North Dakota, South Dakota, Missouri, Wisconsin and Louisiana.