REDLANDS, Calif. – Employees of Ashley Furniture Industries (Ashley) Redlands location recently  made a generous monetary donation of $35,758 to the Inland Empire Ronald McDonald House (IERMH), located in Loma Linda, Calif. This monetary donation was made possible through  Ashley's "Dollar a Week" program and is raised through employee contributions to support  various non-profit organizations. Ashley has been a proud supporter of IERMH for over 15  years.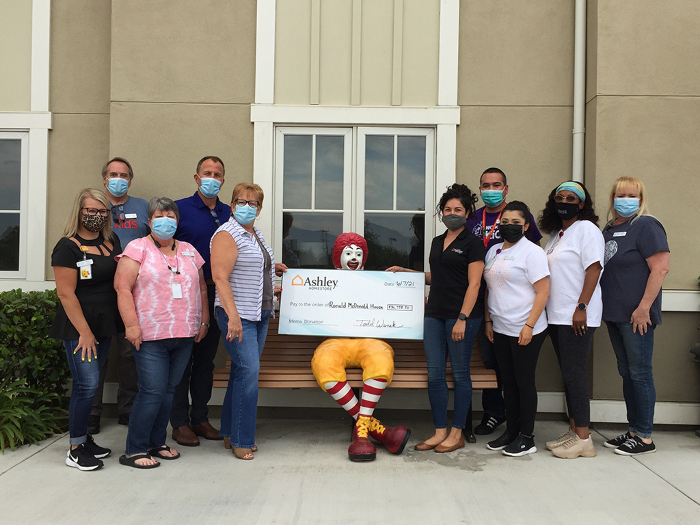 In addition to the monetary donation, Ashley was able to provide new arm chairs, dining room tables and chairs, ottomans, lamps, and floor rugs to the three story, 54 room Ronald McDonald House, giving families and kids a comfortable "home away from home" setting. The IERMH provides a bridge to quality health care and gives children and families the time they need to heal and cope together. At little or no cost, the program allows families to remain steps away from their sick child, helping to ease the impact of medical care while offering services and spaces that create a sense of normalcy as well as supportive, encouraging, and comforting environment.
"We are deeply grateful for the long-term support, partnership, and friendship with Ashley Furniture. Their contributions have allowed us to continue our vital mission of providing temporary residence for families of seriously ill or injured children receiving medical treatment. We couldn't be more thankful and grateful to have this partnership with an organization that aligns with our mission, of 'keeping families close'", said Karen Hooper, Executive Director, Inland Empire Ronald McDonald House.
"The IERMH is a tremendous resource for children and families and Ashley is honored to have  partnered with them now for over 15 years," said Kurt Haines, President of Stoneledge  Furniture LLC.