LA MIRADA, Calif. — Living Spaces is preparing to enter the greater Houston market — in a sense, coming full-circle to the place where the founders of the California-based Top 100 company got their start.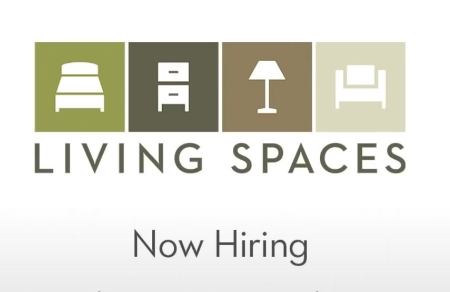 The 28-store home furnishings retailer, with locations throughout California and in Arizona, Texas and Nevada, is recruiting on LinkedIn for a distribution center director in Humble, Texas, a northern suburb of Houston. The post encourages applicants to, "Join us and open this new DC facility." On its website, in addition to this opening, the company also is seeking a distribution center senior manager in Humble. These are two of some 367 company-wide job listings for a retailer that, according to the LinkedIn post, employs more than 3,200 people today.
No details on the size of the facility were disclosed, nor did Living Spaces say when it is expected to open the DC or the timing for stores that would come with it. Home News Now reached out to the La Mirada, Calif.-based retailer for more information this week, and it declined to comment.
While Living Spaces is not new to Texas, a move into Houston, home to many Top 100 furniture store players, is something some in the industry weren't expecting, at least not yet, given the history of Living Spaces and how its founders CEO Grover Geiselman and former business partner Sharm Scheuerman got their start in the furniture business.
In 2002 Geiselman and Scheurman, Stanford University business school graduates, were interning at Houston's Gallery Furniture, taking in all they could from its larger-than-life leader Jim McIngvale. At that time, the two were planning to open a store loosely based on the Gallery format in the San Francisco Bay area that was to be called Today Furniture. But their plans changed somewhat, and they ended up founding Living Spaces in 2003 and opening their first store in Rancho Cucamonga in Southern California. Among the carryovers from their Gallery days: the familiar "Buy today, enjoy tonight" slogan.
Sources in the industry have said they believed Geiselman had a gentlemen's agreement of sorts with McIngvale that Living Spaces wouldn't encroach on Gallery's territory. Neither has ever confirmed this to the trade press, but two years ago, in a writeup on the website of a Rotary Club chapter in Manhattan Beach, Calif., Geiselman was said to have shared the story of his internship start with McIngvale at an August Rotary meeting and, "forever grateful, to this day Grover keeps his business out of "Mack's" territory," according to the post.
It's not as if Living Spaces has avoided Texas altogether. It currently operates a total of five stores in the state: in greater Dallas-Fort Worth, Austin and San Antonio, including a giant showroom, outlet and distribution center in Pflugerville near Austin and a 150,000-square-foot Fort Worth store that opened this past fall.
But two years after that Rotary presentation, Geiselman appears to have changed his thinking on Houston as Living Spaces prepares to enter the fray in the fourth largest market in the country and one teeming with other Top 100 players — not just Gallery, but Rooms To Go, American Furniture Warehouse, Star Furniture (part of Berkshire Hathaway's furniture operations), Exclusive Furniture, Mattress Firm and more.
While there is no word yet on actual Living Spaces stores coming to Houston, as one retailer in the market told HNN, "Who puts in a DC with no store?"
Gallery's McIngvale appeared unfazed by the news, when asked about it by HNN, and based on some of his comments, Living Spaces plans didn't appear to be brand new news to his ear.
"I've been here 40 years, and I welcome any and all competitors," he told HNN. "I kicked a whole lot of their asses, and I'm planning on continuing (to do so)."
He declined to address the rumors about a gentlemen's agreement, but in what could possibly be taken as a dig at the potential new competitor, he added, "We're not here to please the MBAs. We're here to please the customer. They all forget that equation.
"I don't have an MBA from Dartmouth or Harvard or Stanford. I have a PhD in customer-ology, from being at the front for 40 years." Too many competitors, he added, spread themselves too thin and the leadership doesn't stay active in the actual stores.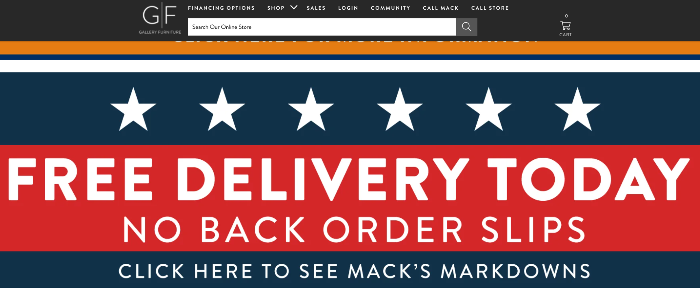 "I'm glad to have AFW here," he said. "I'm glad to have Rooms to Go here. I'm glad to have whoever else wants to come here. Let's just line up and play. The person who takes care of the customer best will win, and we're pretty good at taking care of the customer."
Asked how business has been this year, McIngvale quipped, "Pretty slow, just up about 80%." and he pointed to his mix of mostly American-made furniture, instant availability and same-day delivery service as key drivers in this climate of product shortages, exorbitant container prices and worsening backorders. The first thing visitors to Gallery's website see today is this message: "Free Delivery Today, No Back Order Slips."
In addition to operating stores in Texas and California, the midpriced Living Spaces has four stores in the greater Phoenix, Ariz., market (another market where it competes with Englewood, Colo.-based American Furniture Warehouse) and one in greater Las Vegas. In June, the retailer opened its 28th store, located in a 130,000-square-foot building in Manteca, Calif.