First new product from joint venture with U.K.-based manufacturer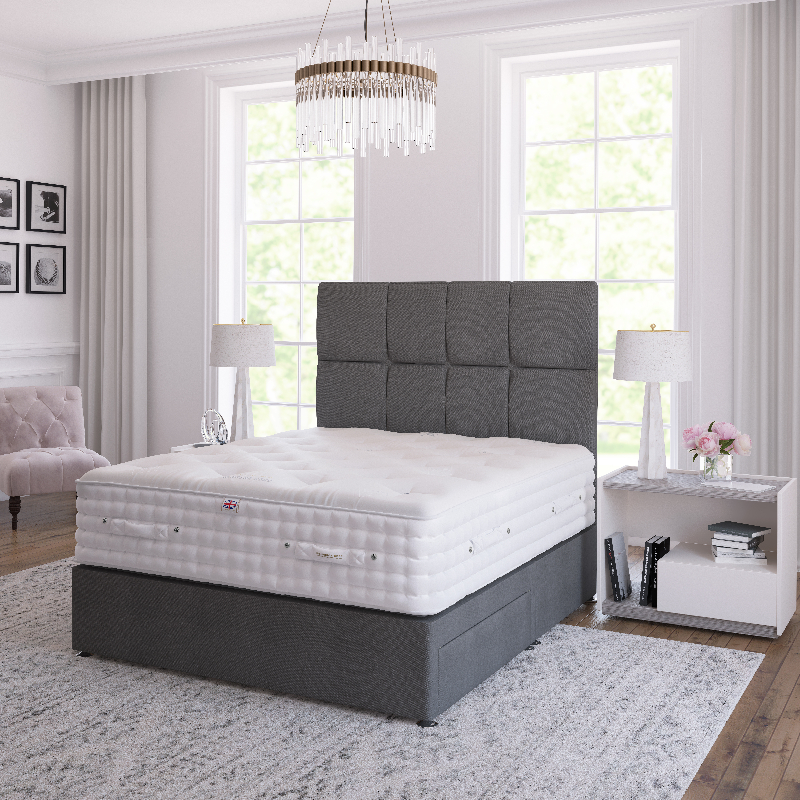 NORTH BRUNSWICK, N.J. – Leading mattress manufacturer Eclipse International will introduce the Windsor 6000 and Windsor 8000, the first models to emerge from its joint venture with Millbrook Beds, the United Kingdom-based producer of premium-quality mattresses, at the upcoming High Point Market. As with all other Millbrook mattresses, the Windsor models feature hand-side stitching and are hand-crafted from all-natural fabrics and fills, using environmentally responsible materials and manufacturing methods.
"This collection launch continues our tradition of bringing luxury, affordable mattress to the U.S," said Stuart Carlitz, president and chief executive officer of Eclipse International. "Millbrook's use of hand-crafting techniques specifically side stitch border tied to the actual springs and all-natural materials that are sourced through eco-friendly means is a perfect complement to our mission to offer high-quality bedding at affordable price points."
Handcrafted in the U.K. and the U.S., the new introductions are tufted, two-sided mattress made with the finest crimped wool from sheep exclusively bred in Hampshire, England, where Millbrook's headquarters are located, cotton from the United States, cashmere, angora, silk and a single black tuft. The wood used in the divan frame is sourced from forests certified by the Forest Stewardship Council (FSC), an international organization that sets rigorous social and environmental standards for the management of the world's forests.
The cover and the fillings are treated with a biological solution, rather than chemicals, to meet the rigid fire-retardant standards of the U.K. as well as the U.S. In the mattress's interior are up to 6,000 hand-nested pocketed springs – 2,000 full-sized pocketed springs and 4,000 body-contouring smaller pocketed springs – along with a unique zonal-edge spring system.
The new mattresses are available in two styles, Euro Top Plush and Luxury Firm Sleep. The suggested retail price for the Euro Top Plush model is $6,999 in queen and for the Luxury Firm Sleep style, the suggested price is $5,999 in queen.
"The launch of the Windsor line is the opening bell to what will be a highly profitable relationship between us and Millbrook," added Carlitz. "We are only offering this collection to a select group of high-end retailers that are looking to fill the affordable luxury niche on their showroom floors. Millbrook will allow these dealers to open their doors to a whole new customer base."
Under the terms of the joint venture agreement, Eclipse will manufacture a Millbrook collection as well as distribute a U.K. produced line of Millbrook mattresses across the U.S. In addition, Millbrook is currently producing and distributing Eastman House-branded coil-on-coil mattresses throughout the U.K. and will begin to produce Eclipse and Ernest Hemingway this summer.
Eclipse will also display its three-model Natural Dreams Pure Talalay line at High Point Market. The company's showroom is located on the fourth floor of the Crown Mark Building, 200 E. Green Dr. The Spring Market is scheduled for June 5-9.
Founded in 1946, Millbrook Beds is owned and operated by the Croll family. Millbrook mattresses are comparable to the ultra-premium luxury brands of the U.K. and the U.S., offer superb attention to detail with exacting standards and sell at a lower cost to dealers, thus providing them with high margins. With the lower starting price points, Millbrook's products give retailers an easy entry into the luxury category.
North Brunswick, New Jersey-based Eclipse International has been making mattresses since 1866. Known for its design innovation in creating advanced sleep products, the company has an extensive global licensing network that distributes mattresses under six brands – Eclipse, Eastman House, Ernest Hemingway, Embrace Pure Talalay, Natural Dreams Pure Talalay, Velika and BIA. A well-established leader in the bedding industry, Eclipse designs products crafted with high quality components, including latex, memory foam, gel and eco-friendly materials. The company holds a number of patents that deliver superb support throughout the product line. Today, the company has 81 licensees worldwide. For additional information, visit www.EclipseMattress.com.