And other takeaways from the Q1 earnings call
BOSTON — Wayfair, which exited the brick and mortar business late last year, appears to be readying to jump back in.
On the first-quarter conference call with the investment community, CEO and co-chairman Niraj Shah said the home furnishings e-commerce giant is ambitiously "going after our $800 billion-plus total addressable market" by continuing to invest in customer and supplier experiences, by expanding its reach and by "testing new concepts and failing, learning and scaling quickly."
Shah added, "In 2021, among our many ongoing initiatives, we are laying the groundwork to test into physical retail, introducing new customer-facing creative, refining the unique positioning of each of our brands, and developing new supplier-facing services."
Details on that first one, Wayfair's next brick-and-mortar iteration, are sketchy at best. Back in December, the Boston Globe reported Wayfair would close its only brick-and-mortar location at the end of that year — a 3,700-square-foot space in Natick Mall in Natick, Mass., that had opened the year before. Wayfair spokesperson Jane Carpenter told the Globe the company considered the store a success, that it had whetted consumer appetite for its products and provided Wayfair with lessons on how stores can help build relationships with shoppers. This, despite the challenges of displaying a representative assortment in such a small space, she added.
Home News Now asked Wayfair for more details on the next physical retail test. It would only point to a transcript and comments Shah made in February on the fourth-quarter call. Back then, he noted, as a reminder, the Natick store was its first test opened for just about 18 months.
"I deliberately called Natick an experiment, as we are looking to test into the right omnichannel strategy for Wayfair through iteration and ROI-based analysis, just like we do for all our emerging marketing channels," he said.
"We believe that home has a long future runway for online penetration but also see value and our customers interacting with our brands and products through other channels." What the next format for stores will look like "remains to be seen and will likely vary as we think about our different portfolio brands and widespread geographic presence.
Those Wayfair brands, in addition to Wayfair, include Perigold, Birch Lane, AllModern and Joss & Main.
On that Q4 call, Shah called Natick "a great testing ground for what was and what wasn't resonant with the Wayfair customers," and to expect to see its learnings recycled into future concepts.
That was it. But if those lessons learned in Natick are any indication of what the Boston-based e-tailer has planned for Act II, perhaps a strategy of larger stores that better fit its all-things-home image is in the cards.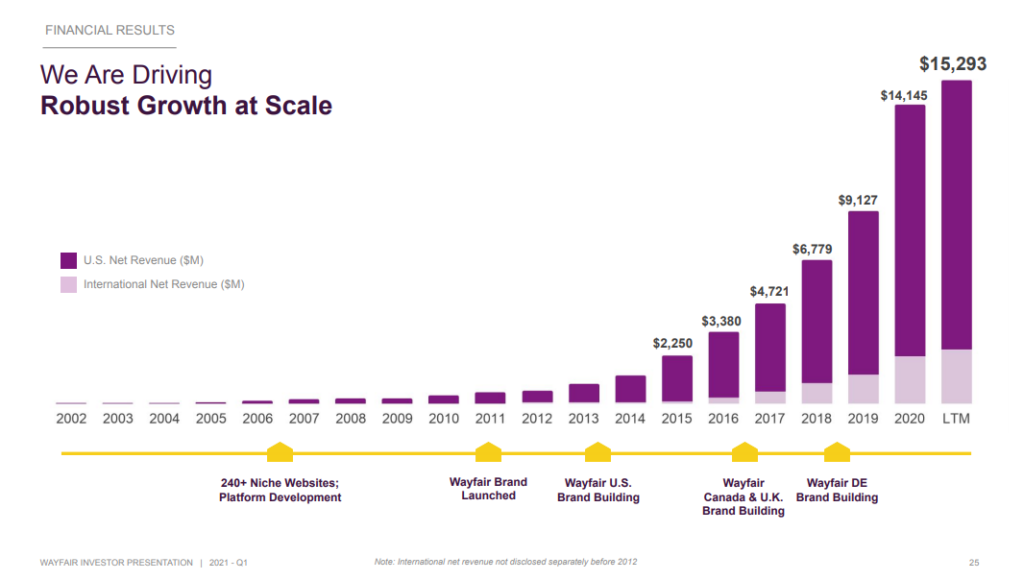 Here are a few more takeaways from the retailer's Q1 call and earnings report.
Sales grew by more than $1 billion, and the company turned another profit … sort of. Total net revenue increased 49.2% to $3.5 billion. U.S. net revenue was up 42.8% to $2.8 billion. Net income was $18.2 million, or 16 cents per share, up from a loss of $285.9 million, or $3.04 per share, for the same period a year ago. In a footnote, the company said it adopted a new accounting standard for debt at the beginning of this year, and had it not adopted the standard, the diluted earnings per share for the first quarter would have been a loss of 31 cents.
Some other interesting numbers from the Q1 report: advertising as a percent of revenue for the quarter was 10.2%, in line with its guidance; repeat customers placed about three-quarters of total orders, 74.5%, compared to 69.8% in the first quarter last year; average order value was $237, up slightly from $235 a year ago.
Pay no attention to YOY net revenue comparisons in the second quarter. Chief Financial Officer Michael Fleisher, reminded everybody just how tricky the second quarter will be when it comes to offering any sort of guidance.
"This time last year, we were just getting used to working, living, schooling and doing just about everything else from home," he said. "For many of our customers, this made for a flurry of online purchases to better equip themselves to deal with this new reality."
It also meant consumers were spending a good portion of those first stimulus checks, which began hitting bank accounts in early April last year, on products in "so-called Covids classes, like home office and playroom," Fleisher said And that spike in home-related product purchases is what Wayfair (and other e-commerce retailers) are now comping against. (For brick-and-mortar retailers, the toughest comparisons start arriving in late May, when the lockdown eased and business came booming back.)
"With all this in mind, we are not surprised by a negative year-over-year gross revenue trend quarter-to-date, which is currently showing down in the high-single digits," Fleisher said. But both Fleisher and Shah said this year-over-year comp isn't really meaningful given the extraordinary circumstances last year, and the better way to look at where the business is going is sequentially — Q2 over Q1, Q1 over Q4 2020.
Fleisher said, "we believe Q2 net revenue will be higher than Q1 net revenue and … we expect to be strongly profitable every quarter of 2021." Q4 net revenue was $3.7 billion, by the way, greater than the $3.5 billion in Q1, but Q4 is a big holiday sales quarter.)
Fleisher also noted that some may be wondering how much Wayfair's popular Way Day promotion added to the second quarter-to-date growth rate. "But I will just remind you that we hosted the Save Big, Give Back event, which ran for a week and was very successful in lieu of Way Day last year, and we comped that in April. So, we are effectively lapping a weeklong event last year with a strong two-2-day event this year."
While Wayfair hasn't been immune to supply chain woes, it's done a few things to help both the company and its suppliers efficiently navigate the rough waters. Shah said Wayfair has been scaling up its Asia-based logistics operations and freight-forwarding business, a move that's been "especially powerful given the upheaval and congestion in the ocean container market and has allowed participating suppliers to maintain a steady flow of goods to the U.S. and Europe to keep their businesses on track."
Elaborating, Wayfair Co-Chairman Steve Conine, talked about ISC, or International Supply Chain, "the third and newest pillar of our logistics business" offering consolidation, ocean cargo and drayage services to suppliers moving Asian manufactured inventory to North America and Europe.
"Leveraging our scale, we purchased bulk cargo capacity from some of the largest freight providers in the world and pass on both the savings and the assurance of guaranteed space to our suppliers," he said on the call. "We can offer this for full containers bound for either CastleGate locations or suppliers' warehouses. Across multiple suppliers, we can also break bulk and construct optimized consolidated containers bound for each of our CastleGate locations," (it's network of 17 warehouses totaling 18 million square feet across North America and Europe) "unlocking speed and lowering supply chain costs."
ISC, he said, "completes the puzzle for a full suite of door-to-door services, helping suppliers get products from their manufacturing sites directly to customers' doorstep through Wayfair."