PLANO, Texas — At Home opened three superstores this week and has another planned for later this month as the home furnishings retailer returned to expansion mode with its sights set on roughly tripling its store count.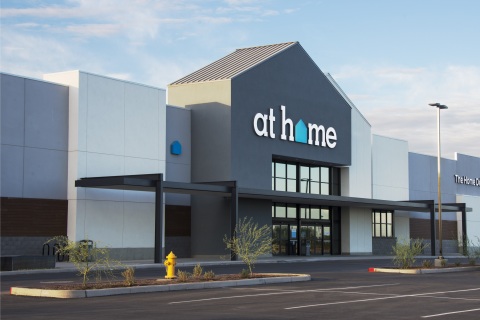 The retailer opened stores Wednesday in Nanuet, N.Y., on Fashion Drive; Johnstown, Colo., on Thompson Parkway; and Ocean Township, N.J., on NJ-66. The fourth opening in San Jose, Calif., on Newhall Drive, will push its national footprint to 222 locations in 40 states by the end of February.
It's the start of a plan to open 12 to 15 stores this year, returning to an accelerated expansion plan Chairman and CEO Lee Bird noted in the company's fiscal third-quarter earnings conference call in December. The retail sees long-term potential of operation more than 600 stores, he said.
The 12 to 15 openings planned this year was bumped up from seven to 10 planned earlier. And after this year, he said the retailer will resume a pace of 10% annual store growth, in new and under-penetrated markets (which would mean about 23 stores in 2021 and it moves toward that 600-plus store figure.)
For comparison, At Home grew by a net six stores from December 2019 to December 2020.
Most of the stores opened or opening this month are in markets Bird previously noted as holding strong growth potential: California, where it has just four stores and sees room for 80 to 90; the New York Tri-State area, where before the opening, it had 11 stores and saw potential for 50 to 60; the Midwest, where it will look to more than double its store count to 120; and South Florida, where it has just one location.
The retailer is targeting first-year revenue per store of $6 million, it said back in December, noting that this might be conservative, given the average revenue per store is $7 million and some of the more mature market stores are doing $10 million a year.
In a release announcing the February openings, Bird said, "Our business has never been stronger and there is enormous growth potential for At Home.
"With the success of the last three quarters, we continue to take significant market share and emerge as a major winner in the home décor space. Our business is resonating with customers across the country, and we are excited to bring new At Home stores from coast-to-coast."