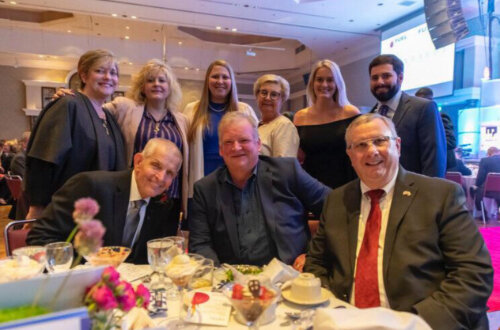 JACKSON, Miss. — Mike Hyde, a well-known industry sales rep to key accounts and former co-owner of Seminole Furniture, was partially paralyzed in a Jeep accident in November. But he's getting some help from an executive of Avalon Furniture and others in the industry, who have stepped up to defray expenses not covered by insurance.
Hyde was making a short, but difficult run not far from his home in Mississippi, Nov. 11, when a tire blew out on his vehicle. After the Jeep slipped off the jack in muddy conditions, Hyde used one hand to stabilize the vehicle, threw the tire on with the other, and felt a sting move down his back and leg. He was ok to go home, but the next morning, within a few minutes of waking up, he was paralyzed from the sternum down with the exception of a little movement in his toes, said Don Noot, friend and vice president of sales for Avalon Furniture, where Hyde works now as territory manager for Mississippi and key accounts. Hyde had damaged at least two vertebrae in the accident.
Noot set up a GoFundMe page for Hyde here, hoping to ease the burden for the family as he faces a long recovery. (A side note: Hyde's wife recently contracted Covid-19). Recently, Hyde was moved from a Jackson, Miss., facility to the Shepherd Center in Atlanta, renowned for treatment and rehabilitation of patients with spinal cord injuries.
On the GoFundMe page, Noot writes: "This will be a lengthy and grueling process. The therapy is quite costly. Insurance and scholarship only partially cover what is needed. He is not able to work due to the accident. While we realize this may be a difficult time to donate for many, we know Mike will appreciate any contribution small or large. Prayers are also appreciated."
Hyde already has recovered some mobility in both legs, and Noot said he's expecting a full recovery.
"The guy doesn't quit," he told Home News Now, noting how Hyde is tackling this with the same intensity he brings to his work and passions, including fishing, hunting and music. In the less than two years he's worked for Avalon, Hyde "has exponentially increased a territory most people can't even make a living in," Noot said. But he's best known for the decade he spent at the former Collezione Europa as its top writer with a swath of key accounts he calls friends today from Jim McIngvale of Gallery Furniture to the team at Badcock Home Furniture & more.
Separately, but another industry GoFundMe page to note: industry consultant Sev Ritchie is seeking help for exorbitant medical expenses as he awaits a liver transplant evaluation. See more here.