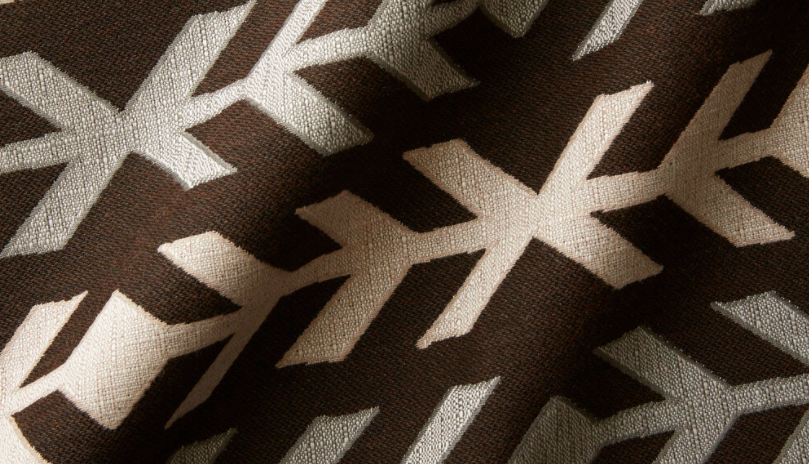 HIGH POINT, N.C. —Throughout the showrooms of the ITA Showtime Market this week, two themes wound common threads among the fabric producers at the show—comfort and versatility.
With Americans seeing their homes as a sanctuary like never before, textile companies have stepped up to create fabrics that exude comfort both in look and feel, while also giving consumers the ability to put their own stamp on their living spaces.
That was certainly the driving inspiration behind Sunbrella's new collection. The line includes fabrics incorporating novelty yarns like boucle and chenille for a velvety-soft hand, while a subdued palette and fresh takes on iconic patterns lend versatility.
"The overall focus was to create an offering that appeals to a variety of aesthetics," said Esther Chang, design/style manager, Glen Raven/Sunbrella. "These are textiles that are very easy to apply and a bit playful, with a mix of stripes, and large- and small-scale patterns."
That was evident in the Addie Espresso fabric, a large tribal-style pattern that could be too busy in a different color, but comes off restrained thanks to its brown, cream and gray coloring.
"We are seeing brown make a comeback in a more fresh and modern way," said Sarah Dooley, upholstery marketing manager, Glen Raven/Sunbrella. "It's cooler and paired with grays to give it a more handsome take.
"With the return of brown, there are patterns that colored differently could be too bold. But in brown, there are a lot of application options."
Brown appeared all over Showtime this market, from the menswear-inspired looks at Para Tempotest to softer beige iterations at Outdura and the rich espressos of Sunbrella. While gray has ruled for some time now, brown recalls a midcentury vibe while feeling fresh.
"With the integration of brown, it's unique to see how easily it can blend back into our color vocabulary to be modern, retro and comforting at the same time," said Dooley.
And along with that brown, companies like Sunbrella have introduced patterns designed to work together and layer to add dimension to rooms and appeal to a broader range of consumers.
"We no longer live in rooms that are super matchy-matchy," said Chang. "The most interesting rooms have a mix of aesthetics."
As we all grapple with life during a pandemic, the ability to have control over something becomes more important than ever, even if that's just how our homes are decorated. And if the introductions at Showtime are any indication, consumers will have more choice than ever on how their homes look and feel.