Updated at 4 p.m. with the first customer comments
JACKSON, Miss. — Miskelly Furniture is like the vast majority of furniture retailers these days — enjoying great business, but struggling to keep up with customer deliveries thanks to unprecedented supply chain disruption.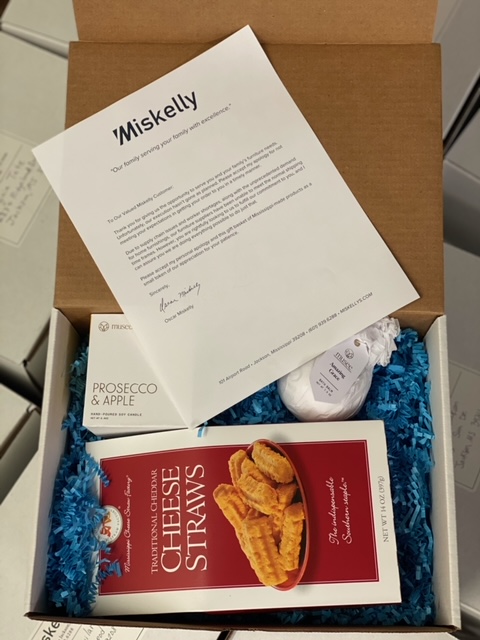 The seven-store retailer has been communicating with customers all along the way, but this week it went one step further — apologizing for the delays but also thanking customers for their patience with a box of gifts they can enjoy while they wait.
"We thought about gift cards, but then said, 'Let's do something a little bit more personal, maybe a little more thoughtful,'" said CEO Oscar Miskelly.
About 400 gift boxes are going out this week to customers who "have been waiting a long time to get their product," Miskelly said. Since the first 100 just went out, it was a little too early to comment on how they're being received. (Update: They've been positive; see early comments below.)
Inside customers will find three Mississippi-made gifts — a package of cheese straws, a bath bomb and an aromatic candle. Fortunately for Miskelly, it sells gifts along with furniture in its stores, so it was able to get them at cost (the estimated retail value is about $100) while supporting its own vendors. Also in the package is a note from the customer's salesperson, thanking them for their business and apologizing for the delay.
And it's topped off with another note from Oscar Miskelly, stating the same but going into a little more about what's going on in the industry:
"Due to supply chain issues and worker shortages, along with the unprecedented demand for home furnishings, our furniture suppliers have been unable to meet the normal shipping time frames," he writes.
"However you are rightfully looking to us to fulfill our commitment to you, and I can assure you we are doing everything possible to do just that."
And then he asks them to accept his personal apology and the gift basket as a small token of appreciation for their patience.
Each of Miskelly's salespeople was told to go through their orders and write personal notes to the five customer who have been waiting the longest, said Miskelly's Elizabeth Ann Howell, a buyer, who, along with her sister, A.K. Miskelly in the visual department, were responsible for pulling the boxes together. (They both happen to be Oscar Miskelly's daughters, too.)
"We wanted to thank everybody for shopping locally right now," she said, noting that's why Miskelly chose items produced in the state — the candles and bath bombs from Musee in Canton, Miss., and the cheese straws from a company in Indianola, Miss.,
"There a lot of people turning to the internet so we're appreciative when they turn to Miskellys.com instead of Wayfair or other online sources, and we also wanted to support local business with what we put into our gift box."
In his letter to waiting customers, Oscar Miskelly calls the gift a small token of appreciation," but it's clear from Howell that its heartfelt and that the continuing delays have weighed heavy on her father and the company
"We wanted them to know we're sorry," Howell said. "We're sorry we weren't totally preparted to deal with the influx of business that came our way."
When Howell was in High Point with her father during Premarket last month, they kept hearing people talk about how great business was, and, "I heard my father say the whole time, 'Yes, but I just hate the way we're not able to service our customers right now,'" she recalled.
"That's what we've been so good at, having it in stock and ready to go, and obviously that's a big challenge right now, being able to hold to that business model."
Less than 24 hours after the first packages went out, the emails and texts started coming in. One customer first apologized to the salesperson if she came off rude.
"Secondly, I'd like to say thank you for helping me with my purchase and also for the gift box and especially the handwritten thank you card. It definitely makes a difference when you feel like your money is not just being taken but some appreciation has been shown. I will definitely let you know when I'm ready to order more furniture, now I know for sure it will be with Miskelly's."
And another: "Thank you so so so much for my gift. I love it. I am about to sit here on my lunch break and eat the cheese straws and most definitely will be lighting the candle and using the bath bomb simultaneously!!!! Again thank you !!! I am smiling real big over here !!!"