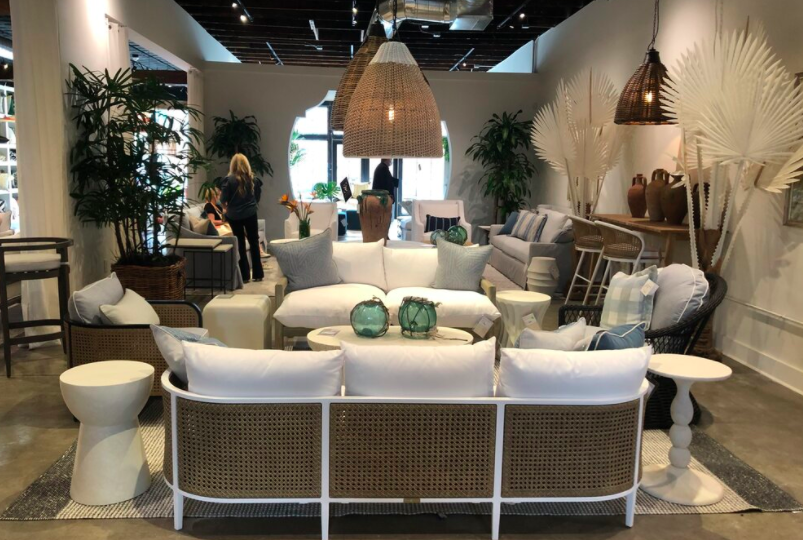 HIGH POINT, N.C.—With a year that has included pandemic shutdowns, supply chain issues and record retail sales, many of the outdoor companies showing at the High Point Market reported a challenging but surprisingly successful year.
Walking the downtown showrooms illustrated a market of extremes with some companies opting to keep their doors closed this time around, while others like Summer Classics and Telescope Casual cut the ribbon on new showrooms.
Summer Classics and Gabby opened their spacious new showroom in the former Stanford Furniture building. Boasting more than 20,000 square feet and plenty of natural light via ample windows, the space gave the companies room to showcase a number of new product introductions.
With the company's acquisition of Stanford last year, Summer Classics/Gabby added a custom upholstery facility in Claremont, N.C., and they've put it to use with new upholstered pieces across both lines that can be customized with dozens of fabric options.
"We're trying to be a turnkey solution," said Jackie Paulsen, chief marketing officer, Summer Classics.
In Showplace, Telescope Casual moved to a centrally located showroom where they displayed a range of new products, from porch swings to the small-space-solution Bazza rail hugger table, which was a big hit at market.
Throughout market, shipping woes and supply chain difficulties were top of mind for many, but some companies are finding themselves in a prime position thanks to available inventory.
Take Three Birds Casual, for instance. Though they didn't introduce new product this market, CEO Tad Varga says they're fully stocked and able to ship in a matter of days. Varga says the company took a risk and brought in more product earlier this year, not sure if the gamble would pay off.
"We just kept pushing through," he says. "So we've had significant growth this year."
Domestic manufacturers like Woodard and Lloyd Flanders also find themselves in a good position with inventory ready and new product introductions.
Woodard added two new swings to the line this market, including the showstopper Soho daybed swing. Other additions to the line included a slat extension table that slides open and shut with the touch of a finger.
At Lloyd Flanders, the new Visions collection is 100% made in the U.S. and comes in any of the company's 20 finishes. Other standouts included the Elevation collection in stainless steel with a rope-wrapped detail and the Design Excellence Award-winning Reflections padded woven chair.
Both Woodard and Lloyd Flanders said they are shipping in around 7-8 weeks, which is longer than their usual turnaround, but much faster than many companies right now.
"I'm really grateful we have a product mix where we make so much ourselves," says Warren Juliano, senior vice president of sales and marketing.
Though this year has had its share of challenges—and some of those difficulties are likely to continue into 2021—most outdoor manufacturers in High Point are cautiously optimistic about the coming year.